October 28, 2023
🇫🇷Version française disponible en bas de page.
Come and lose yourself in the infernos of desire and exaltation
Thirty years ago, the Nuit Dèmonia opened its doors to curious and daring souls, inviting them to plunge into the hell of BDSM temptation and pleasure.
Nuit Dèmonia is a celebration, a liberation, an expression of yourself.
Dive into "Inferno", the darkest of awards…
It's a night when inner demons become allies, when hell becomes paradise for those who dare to venture there.
The reflection of three decades of exploration, self-discovery and fantasy acceptance in one evening.
Get ready to shake with us, to bring your most secret desires to life.

The Dèmonia Night dress code is the ultimate invocation to plunge into the darkness of the evening, where hell and darkness intertwine to create a unique atmosphere.
We conjure up fetish outfits in Wetlook – Leather – Latex – Vinyl – Leatherette, to immerse you in the horror that will reign supreme on this night…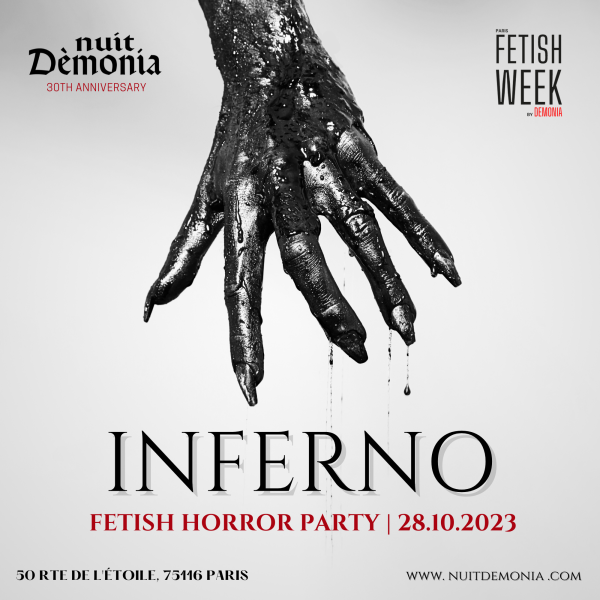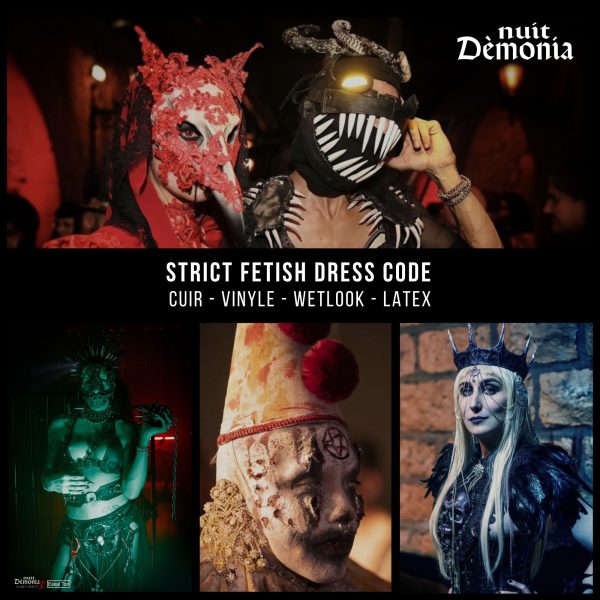 A place of terror
50 Rte de l'Étoile, 75116 Paris
In the twilight of this October evening, when darkness takes hold of the woods, your footsteps bring you closer to this mysterious place, a place where the boundaries between reality and fantasy dissolve.
Welcome to the lair of your darkest desires on this very special evening. The doors open, inviting you to plunge into the heart of the hell of the damned. In this abyssal darkness, discover a dungeon of submission and domination, where fetishism and BDSM intertwine in a frenzied dance.
Dressed in your fetish outfits, you'll no longer be mere spectators, but the main actors in your experience, releasing and expressing yourself to the full.
The moans of the damned mingle with the slaps of pleasure of this whip dance, creating a sensual symphony.
Your adventure doesn't end there; once outside, another room opens up before you. You're swept away by an enchanting sound that draws you into a diabolical dance.
Les Pavillons des Étangs awaits you, ready to offer you an experience you'll never dare forget. Will you dare to pass through the gates of the flames of the Nuit Dèmonia – Inferno?
30 years of fetishism and BDSM in the spotlight.
La Nuit Dèmonia, an icon of freedom and pleasure, proudly celebrates 30 years of existence. For three decades, Nuit Dèmonia has been a gateway to the fascinating world of S&M and fetishism, offering those who have dared to walk through its doors an unforgettable experience.
La Nuit Dèmonia is also a place where personalities from the SM and fetish scene emerge. Find your path, your passion, and help forge the very essence of this unique community.
For 30 years, you've been supporting us, whether it's your first experience or your thirtieth. This anniversary is also yours, and we've got some great surprises in store for you.
La Nuit Dèmonia allowed everyone to express themselves without hindrance, to reveal themselves in all their splendor, without judgment or discrimination.
We continue to fight for this universe to be accepted, for fetish and BDSM practices to be recognized as a legitimate expression of sexuality and identity. La Nuit Dèmonia is more than just a party, it's a movement, an affirmation of our right to be who we are, to explore our deepest desires.
So join us to celebrate 30 years of daring and passion, to dance, play and connect with those who share our vision.
Nuit Dèmonia opens its doors to you once again. Are you ready to be swept away into a world where freedom knows no bounds?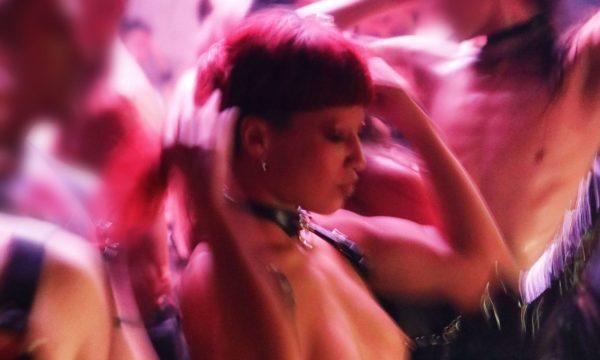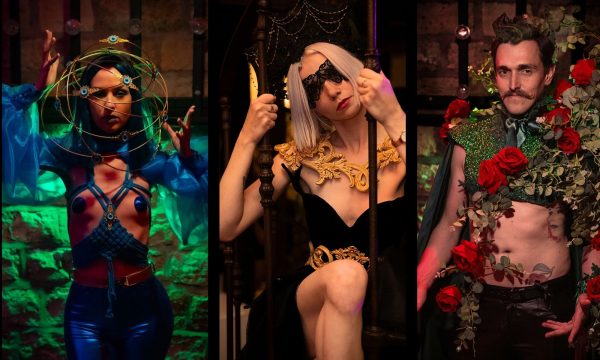 This anniversary will also mark the start of a new era for the fetish and BDSM scene.
Broaden your horizons and come and discover a fascinating world!
From 26 to 28 October, discover the first edition of Fetish Week in France.
Meet other enthusiasts and share your experiences in a welcoming and respectful environment.
The Fetish Market will focus on discovering unique pieces and creations that celebrate the fetish and BDSM aesthetic. A place where designers can showcase their creations and you can admire them up close.
But Fetish Week isn't just about art. Broaden your horizons with a variety of educational workshops that will allow you to discover the vast practices of this captivating universe.
Expand your knowledge, acquire new skills and immerse yourself in a world of personal discovery. An opportunity to learn from passionate professionals and share experiences with like-minded people.
What would the fetish and BDSM scene be without its electrifying atmosphere for unique sensory experiences and exploring your deepest fantasies at parties. Whether you're interested in role-playing, domination, submission or any other BDSM practice, Fetish Week parties offer an immersive and safe experience.
The Dèmonia Night will be the finale of this week dedicated to the world of fetish.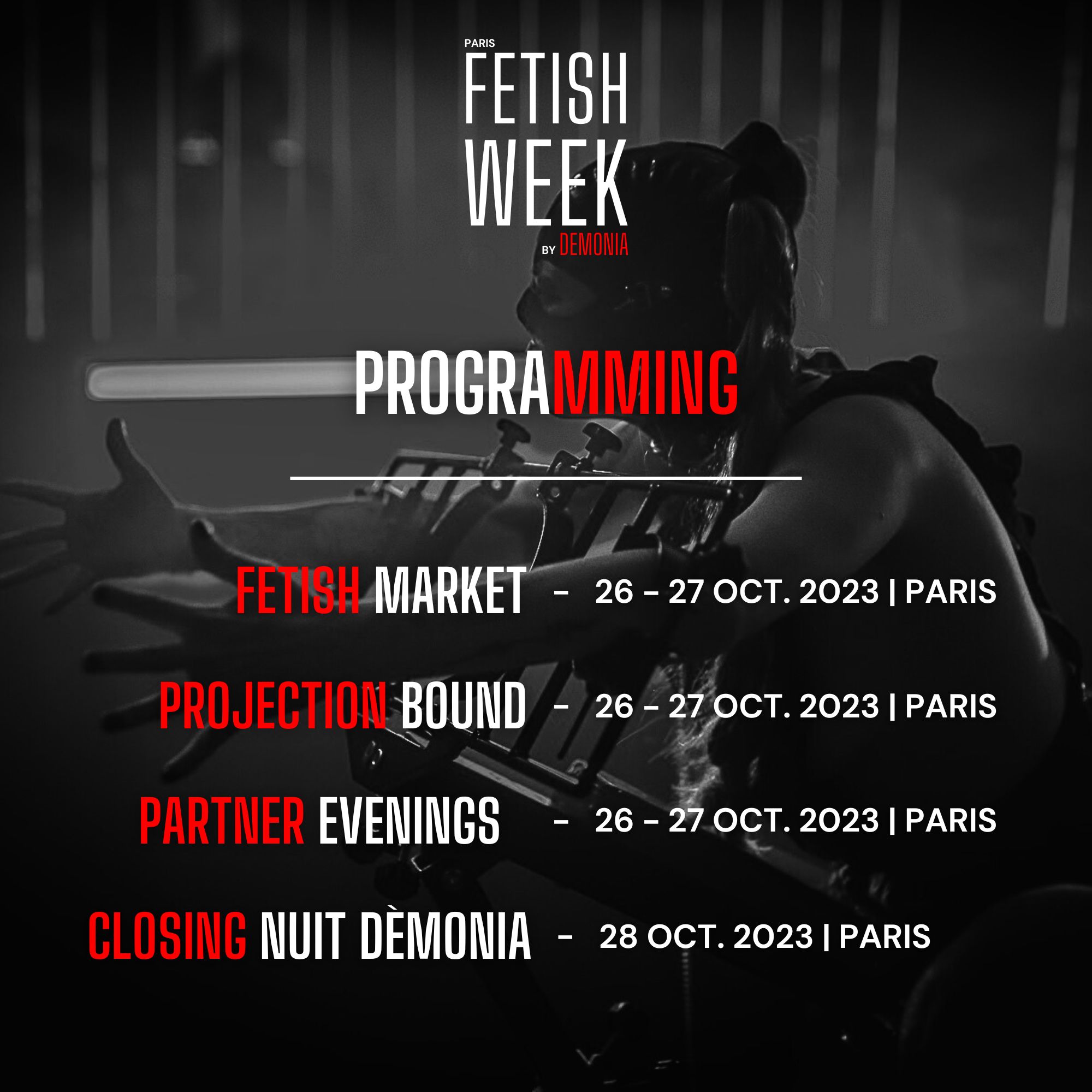 Venez vous perdre dans les enfers du désir et de l'exaltation
Il y a trente ans, la Nuit Dèmonia ouvrait ses portes aux curieux et aux audacieux, les invitant à plonger dans l'enfer de la tentation et du plaisir BDSM.
La Nuit Dèmonia est une fête, une libération, une expression de soi.
Plongez dans "Inferno", la plus sombre des récompenses…
Une nuit où les démons intérieurs deviennent des alliés, où l'enfer devient un paradis pour ceux qui osent s'y aventurer.
Le reflet de trois décennies d'exploration, de découverte de soi et d'acceptation des fantasmes en une seule soirée.
Préparez-vous à trembler avec nous, à donner vie à vos désirs les plus secrets.

Le code vestimentaire de la Nuit Dèmonia est l'ultime invocation pour plonger dans l'obscurité de la soirée, où l'enfer et les ténébres s'entrelacent pour créer une atmosphère unique. Libérez les démons de votre créativité, transformant votre tenue en une vision terrifiante de votre personnalité.
Nous vous conjurons à vêtir des tenues fetish en Wetlook – Cuir – Latex – Vinyle – Similicuir, afin de vous immerger dans l'horreur qui règnera en maître en cette nuit…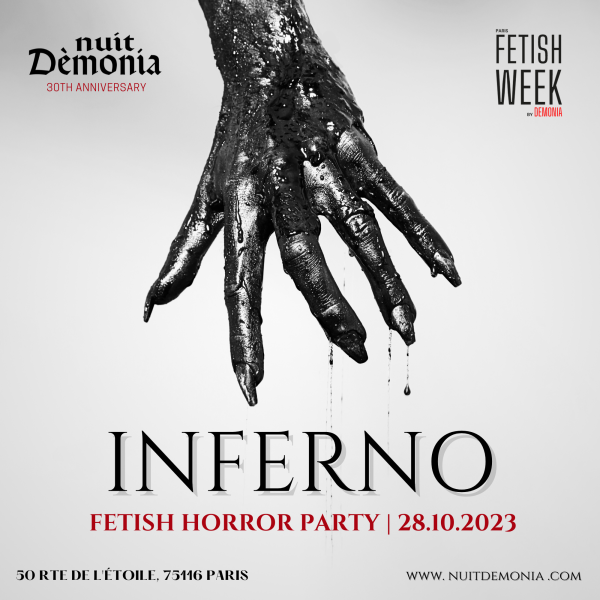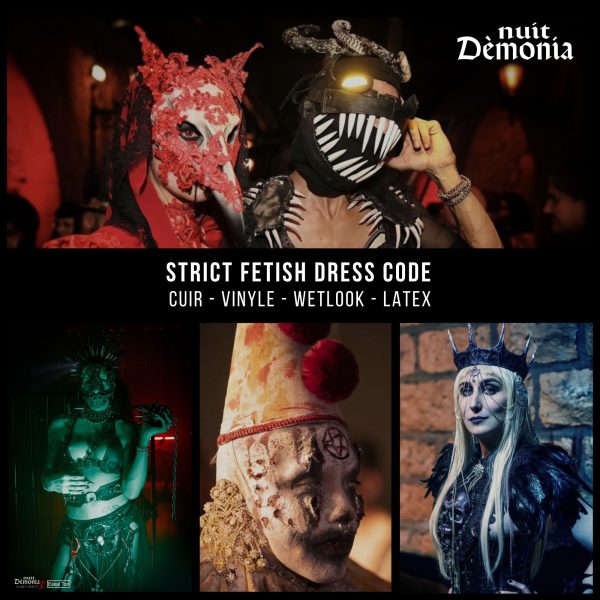 A place of terror
50 Rte de l'Étoile, 75116 Paris
Au crépuscule de cette soirée d'octobre, lorsque l'obscurité s'empare de ce bois, vos pas vous rapprochent de ce lieu mystérieux, un lieu où les frontières entre la réalité et le fantasme se dissolvent.
Bienvenue dans l'antre de vos désirs les plus sombres en cette soirée si particulière. Les portes s'ouvrent, vous invitant à plonger au cœur de l'enfer des damnés. Dans ces ténèbres abyssales, découvrez un donjon de soumission et de domination, où le fétichisme et le BDSM s'entremêlent dans une danse endiablée.
Revêtus de vos tenues fetish, vous ne serez plus de simples spectateurs, mais les acteurs principaux de votre expérience, vous libérant et vous exprimant pleinement.
Les gémissements des damnés se mêlent aux claquements de plaisir de cette danse de fouets, créant une symphonie sensuelle.
Votre aventure ne s'arrête pas là ; une fois à l'extérieur, une autre pièce s'ouvre devant vous. Vous êtes emportés par un son envoûtant qui vous entraîne dans une danse diabolique.
Les Pavillons des Étangs vous attend, prêt à vous offrir une expérience que vous n'oserez jamais oublier. Oserez-vous franchir les portes des flammes de la Nuit Dèmonia – Inferno ?
30 ans de fétichisme et de BDSM à l'honneur.

La Nuit Dèmonia, une icône de liberté des plaisirs, célèbre avec fierté ses 30 (années) d'existence. Depuis trois décennies, la Nuit Dèmonia est une porte ouverte vers l'univers fascinant du SM et du Fétichisme, offrant à ceux qui ont osé franchir sa porte une expérience inoubliable.
La Nuit Dèmonia, c'est aussi l'émergence de personnalités de la scène SM et fétiche. Trouvez votre voie, votre passion, et contribuez à forger l'essence même de cette communauté unique en son genre.
Depuis 30 ans, vous ne cessez de nous soutenir, que ce soit pour vos premières expériences ou votre trentième. Cet anniversaire est aussi le vôtre, et de belles surprises vous attendent.
La Nuit Dèmonia a permis à chacun de s'exprimer sans entraves, de se dévoiler dans toute sa splendeur, sans jugement ni discrimination.
Nous continuons à nous battre pour que cet univers soit accepté, pour que les pratiques fétichistes et BDSM soient reconnues comme une expression légitime de la sexualité et de l'identité. La Nuit Dèmonia est plus qu'une simple soirée, c'est un mouvement, une affirmation de notre droit à être qui nous sommes, à explorer nos désirs les plus profonds.
Alors rejoignez-nous pour célébrer ces 30 ans d'audace et de passion, pour danser, jouer et établir des liens avec ceux qui partagent notre vision.
La Nuit Dèmonia vous ouvre une fois de plus ses portes. Prêts à vous emporter dans un monde où la liberté n'a pas de limites ?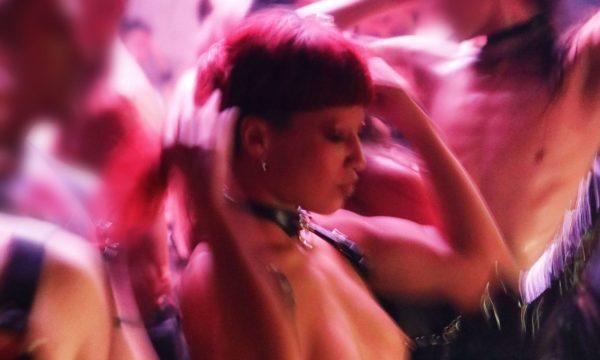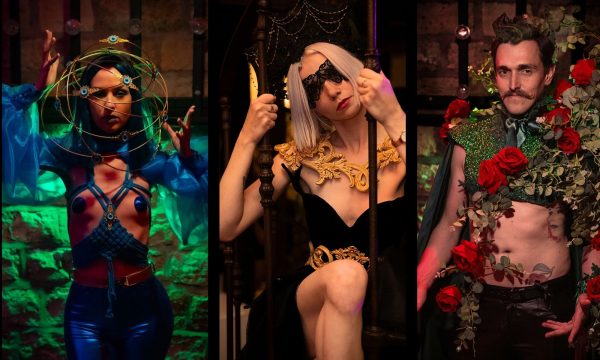 Cet anniversaire marquera également le début d'une nouvelle ère pour la scène fétichiste et BDSM.
Élargissez votre horizon, venez découvrir un monde fascinant !
Du 26 au 28 octobre, découvrez la première édition de la Fetish Week en France.
Rencontrez d'autres passionnés et partagez vos expériences dans un environnement accueillant et respectueux.
Le Fetish Market mettra un accent particulier sur la découverte de pièces et de créations uniques qui célèbrent l'esthétique fétichiste et BDSM. Un lieu où les créateurs peuvent présenter leurs créations et vous pouvez les admirer de près.
Mais la Fetish Week ne se limitera pas à l'aspect artistique. Elargissez vos horizons avec une variété d'ateliers éducatifs qui vous permettront de découvrir les pratiques vastes de cet univers captivant.
Développez vos connaissances, acquérissez de nouvelles compétences et plongez dans un monde de découverte personnelle. Une occasion d'apprendre auprès de professionnels passionnés et de partager des expériences avec des personnes partageant les mêmes intérêts
Que serait la scène fétichiste et BDSM sans son atmosphère électrisante pour vivre des expériences sensorielles uniques et explorer vos fantasmes les plus profonds lors de soirées. Que vous soyez intéressé(e) par les jeux de rôle, la domination, la soumission ou toute autre pratique BDSM, les soirées de la Fetish Week offrent une expérience immersive et sécurisée.
La Nuit Dèmonia sera le point final de cette semaine dédiée au monde fétichiste.