La Nuit Dèmonia c'est aussi une succession d'artistes internationaux plus brillants les uns que les autres venant vous éblouir de leurs divers talents.
Découvrez dès à présent la line up des artistes qui seront présents lors de la prochaine Nuit Dèmonia.
Love Has No Borders 2
MARNIE SCARLET
🇬🇧 Uncomplicatedly mixing elements of drag, burlesque, Cabaret and fetishism, known for her unmissable presence for many years at the famous Torture Garden parties in London, Marnie Scarlet is unquestionably the queen of Cabaret Fetish.
An unclassifiable icon who knows how to steal hearts to make hats. Recognized for her surreal shows and spectacular costumes, Marnie hypnotizes, fascinates as much as she paralyzes.
🇫🇷 Mélangeant sans complexe des éléments de drag, de burlesque, de Cabaret et de fetichisme, connue pour sa présence incontournable depuis de nombreuses années aux fameuses soirées Torture Garden de Londres, Marnie Scarlet est sans conteste la reine du Cabaret Fetish.
Une icône inclassable qui sait voler les cœurs pour en faire des chapeaux. Reconnue pour ses shows surréalistes et ses costumes spectaculaires, Marnie hypnotise, fascine autant qu'elle tétanise.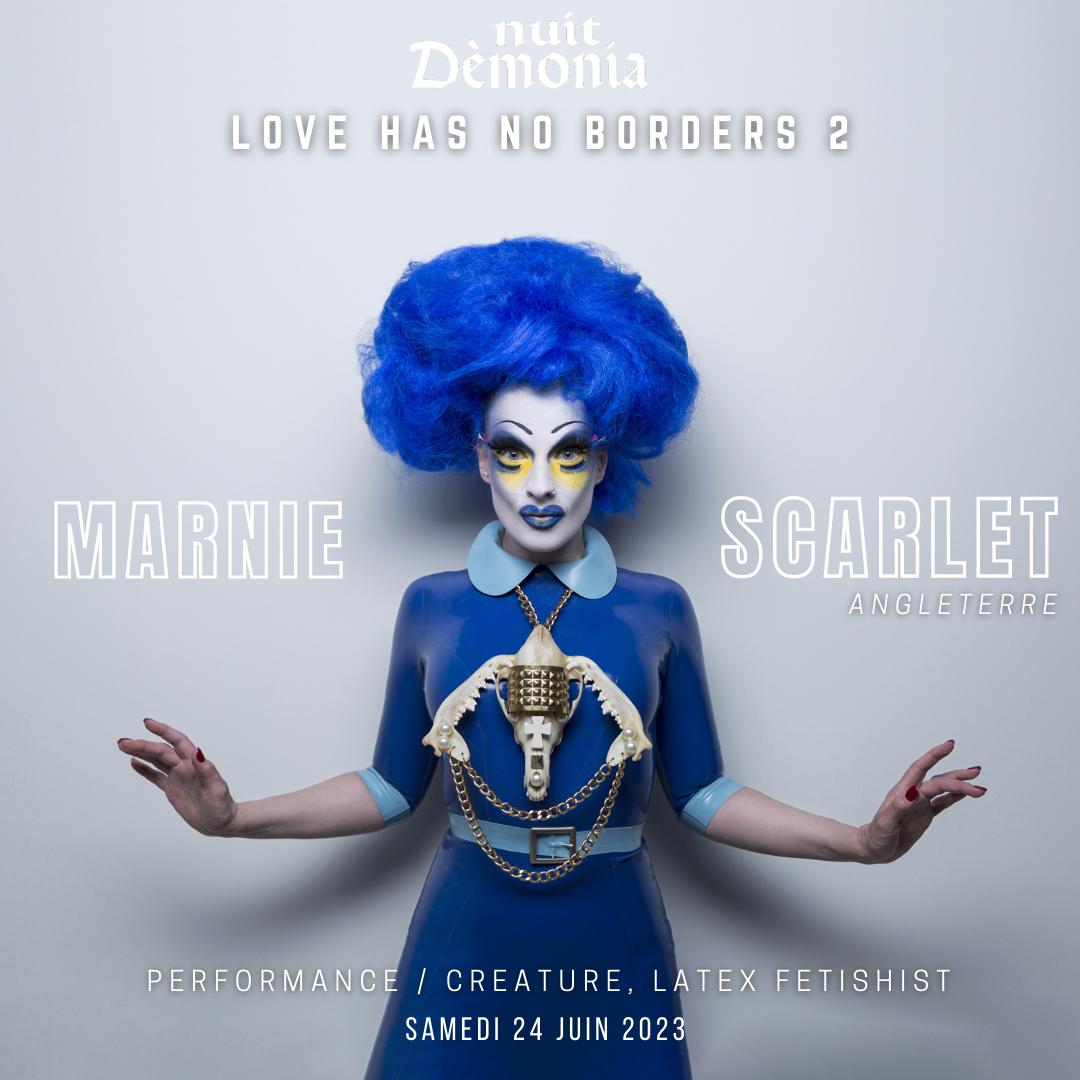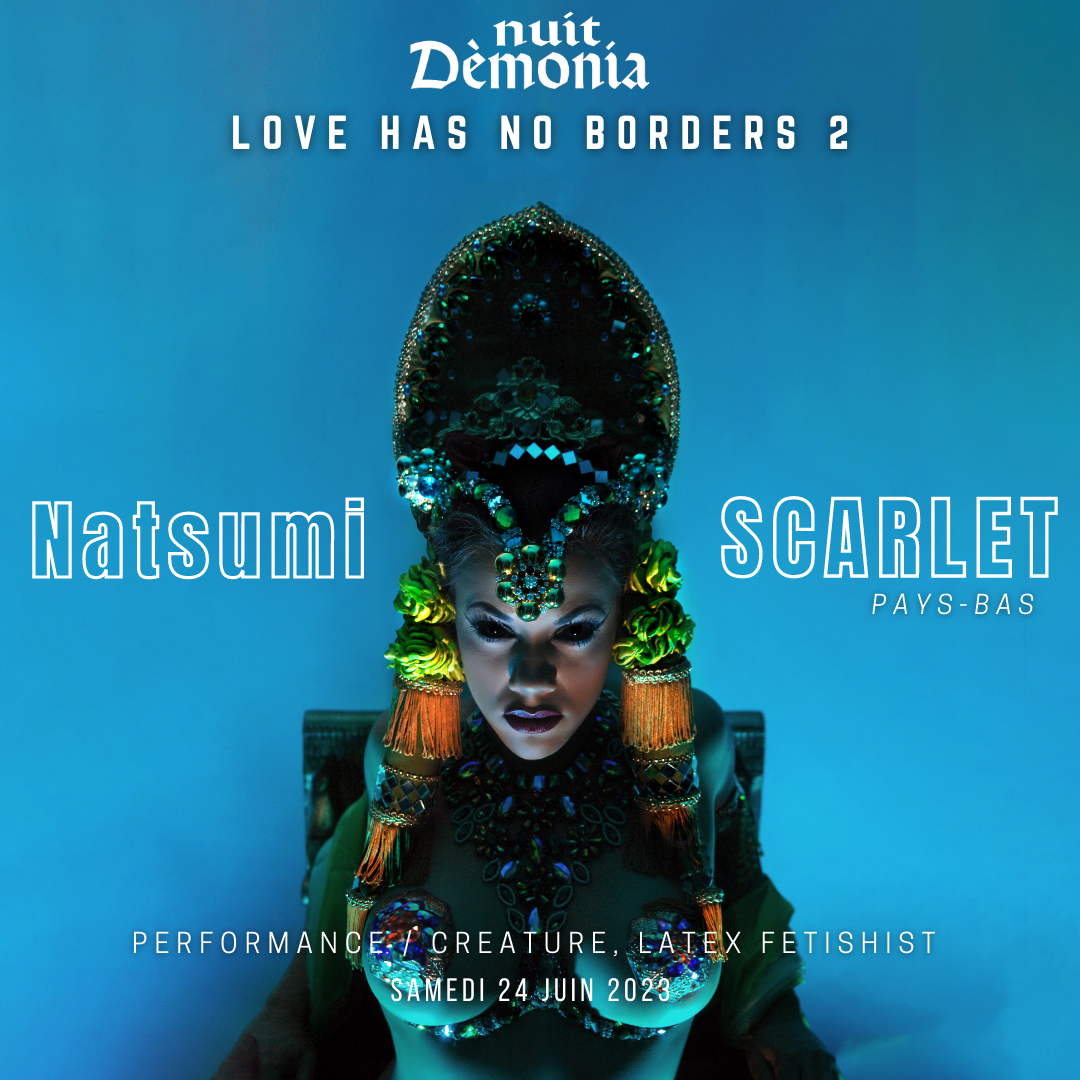 NATSUMI SCARLETT
🇬🇧 Originally from Amsterdam, Natsumi is one of the rare creatures of the Dutch night who has won several awards for the quality of her shows, between eccentric theatricality and extravagance.
His universe mixes erotic art, Shibari, elements of burlesque and fire shows
🇫🇷 Originaire d'Amsterdam, Natsumi est une des rares créatures de la nuit hollandaise plusieurs fois récompensée pour la qualité de ses shows entre théâtralité excentrique et extravagances.
Son univers mélange art érotique, Shibari, des éléments de burlesque et des spectacles de feu
REVERSO
🇬🇧 A prolific and unclassifiable artist, REVERSO pushes the boundaries of performance, cabaret, strangeness and contemporary art. Former high priest of the mythical SUPPERCLUB of Amsterdam, he shines in the biggest capitals
Des soirées aux galeries, en passant par les clubs insolites, rien n'arrête la folie créative de ReVerso. Il entraîne le spectateur dans des contrées inexplorées et déjantées, tel un lapin blanc.
🇫🇷 Artiste prolixe et inclassable, REVERSO repousse les limites de la performance, du cabaret, de l'étrangeté et de l'art contemporain. Ancien grand prêtre du mythique SUPPERCLUB d'Amsterdam, il brille dans les plus grandes capitales
Des soirées aux galeries, en passant par les clubs insolites, rien n'arrête la folie créative de ReVerso. Il entraîne le spectateur dans des contrées inexplorées et déjantées, tel un lapin blanc.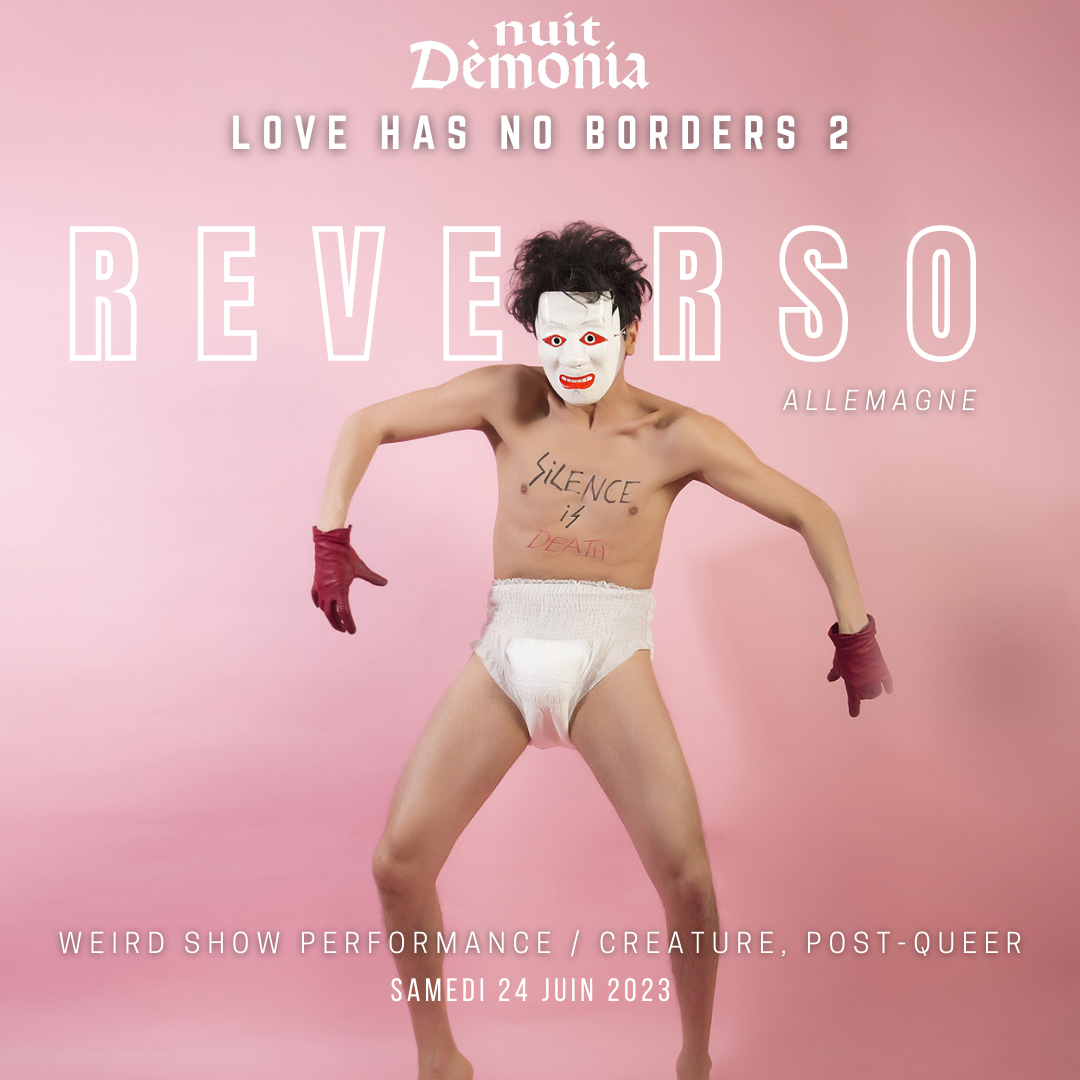 NOX NOMORE
🇬🇧 Originally from Amsterdam, Natsumi is one of the rare creatures of the Dutch night who has won several awards for the quality of her shows, between eccentric theatricality and extravagance.
With Tyler Kro, an essential icon of the Parisian underground scene, they present a liberating and initiatory ritual where body and hemoglobin intertwine.
🇫🇷 Nox No More, figure connue de la scène, vit une renaissance explosive. Fondatrice du label Red Night District et de la soirée Allegoria, elle embrasse l'expérimental, l'érotisme et la sensualité.
Avec Tyler Kro, une icône incontournable de la scène underground parisienne, elles présentent un rituel libérateur et initiatique où corps et hémoglobine s'entrelacent
MISS SEE YOU
🇬🇧 An essential icon of the electric circus and its Decadent Cabaret for several years, Pierre Pleven, aka Miss See You, has no equal in capsizing the body and the heart.
Fresh off the track, he clicks his heels up to our Demonic Night to present himself to you as a provocative offering in a generous, feline and tense energy. What would you do with it?
🇫🇷 Icône incontournable du cirque électrique et de son Cabaret Décadent depuis quelques années, Pierre Pleven, aka Miss See You, n'a pas son pareil pour faire chavirer le corps et les cœurs.
Fraichement sorti de piste, il fait claquer ses talons jusqu'à notre Nuit démoniaque pour se présenter à vous comme une offrande provocatrice dans une énergie généreuse, féline et tendue. Qu'en feriez vous ?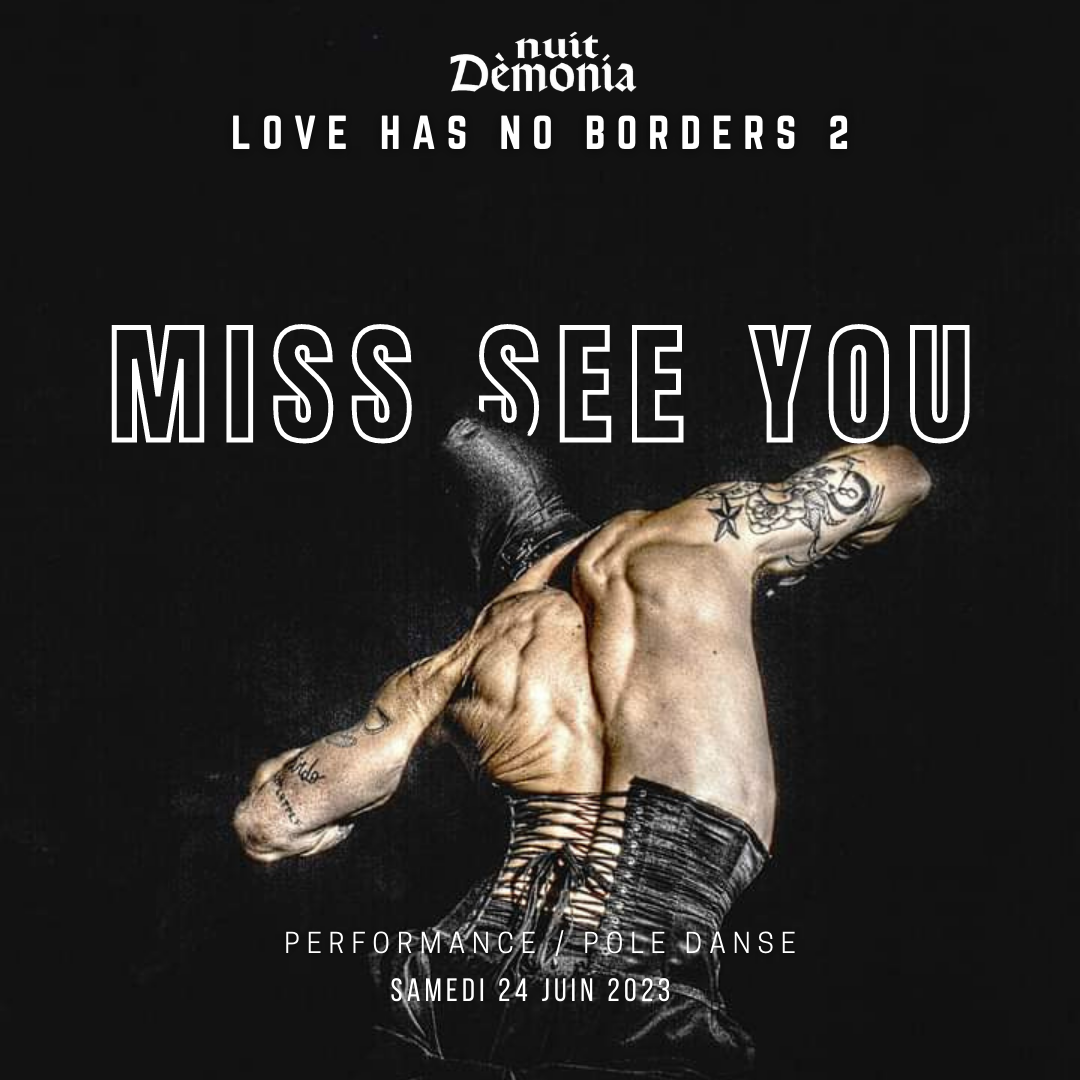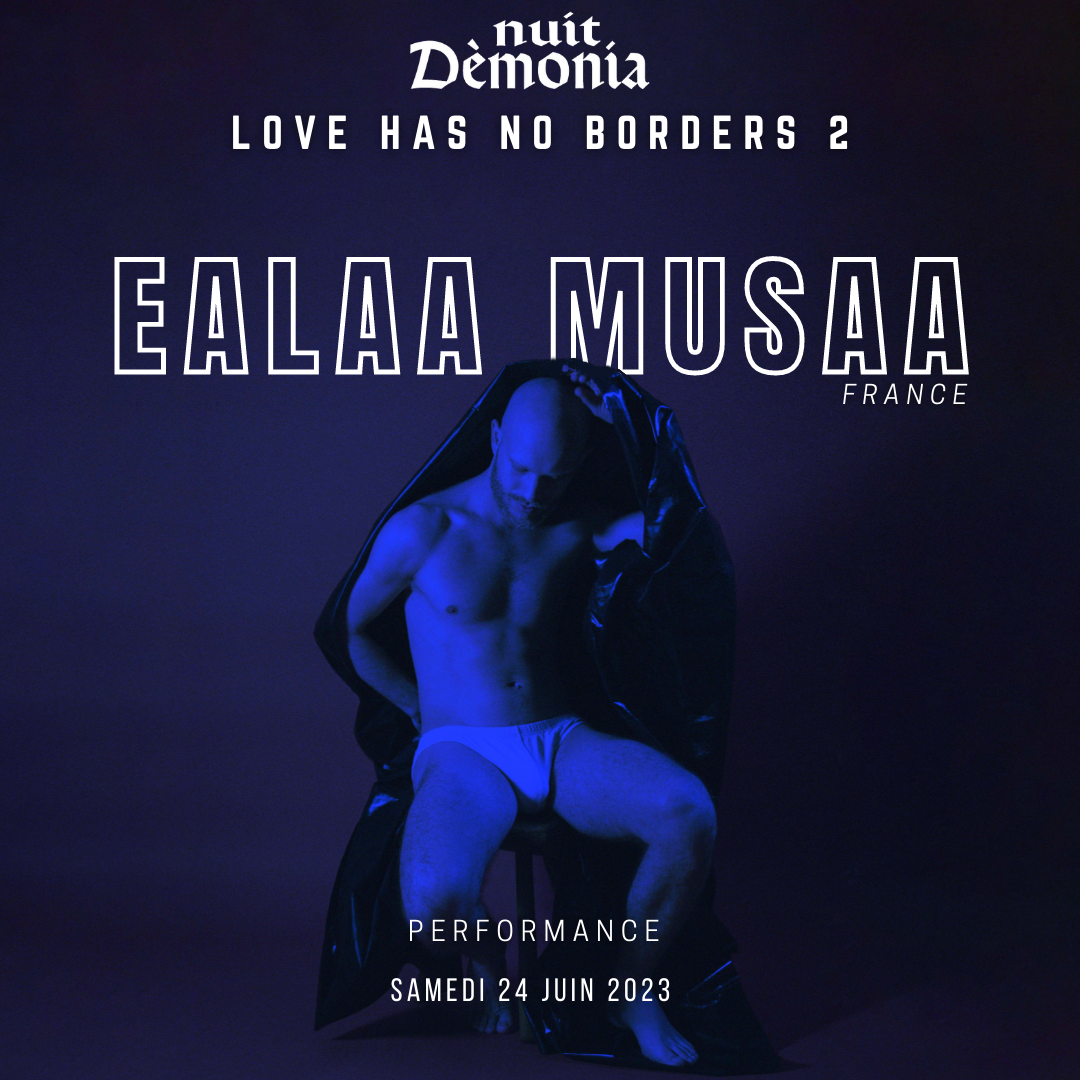 EALAA MUSAA
🇬🇧 Benjamin, a multidisciplinary and protean artist, is a resident performer at the Adult Paris fetish party. Her work explores human nature in all its diversity, addressing themes such as sexuality, birth and death.
Through the staging and characterization of his characters, his raw and sophisticated aesthetic vision prompts a personal reflection on our intimate relationship with ourselves.
🇫🇷 Benjamin, artiste pluridisciplinaire et protéiforme, est un performer résident de la soirée fetish Adult Paris. Son travail explore la nature humaine dans toute sa diversité, abordant des thèmes tels que la sexualité, la naissance et la mort.
À travers la mise en scène et la caractérisation de ses personnages, sa vision esthétique brute et sophistiquée suscite une réflexion personnelle sur notre relation intime avec nous-mêmes.
EMA MONTES
🇬🇧 Recognized burlesque artist, there is no longer any need to introduce Ema Montes in the world of nightlife and French Cabaret. Since 2010 she has been touring her shows and that of her troupe La Petite cour des Astres on the main stages of Europe.
His meeting with Juju Kotokubi led them both to develop universes around performance and Shibari.
🇫🇷 Artiste burlesque reconnue, plus besoin de présenter Ema Montes dans le monde de la nuit et du Cabaret hexagonal. Depuis 2010 elle tourne ses spectacles et celle de sa troupe La Petite cour des Astres sur les principales scènes d'Europe

Sa rencontre avec Juju Kotokubi les conduisent tous deux à développer des univers autour de la performance et du Shibari.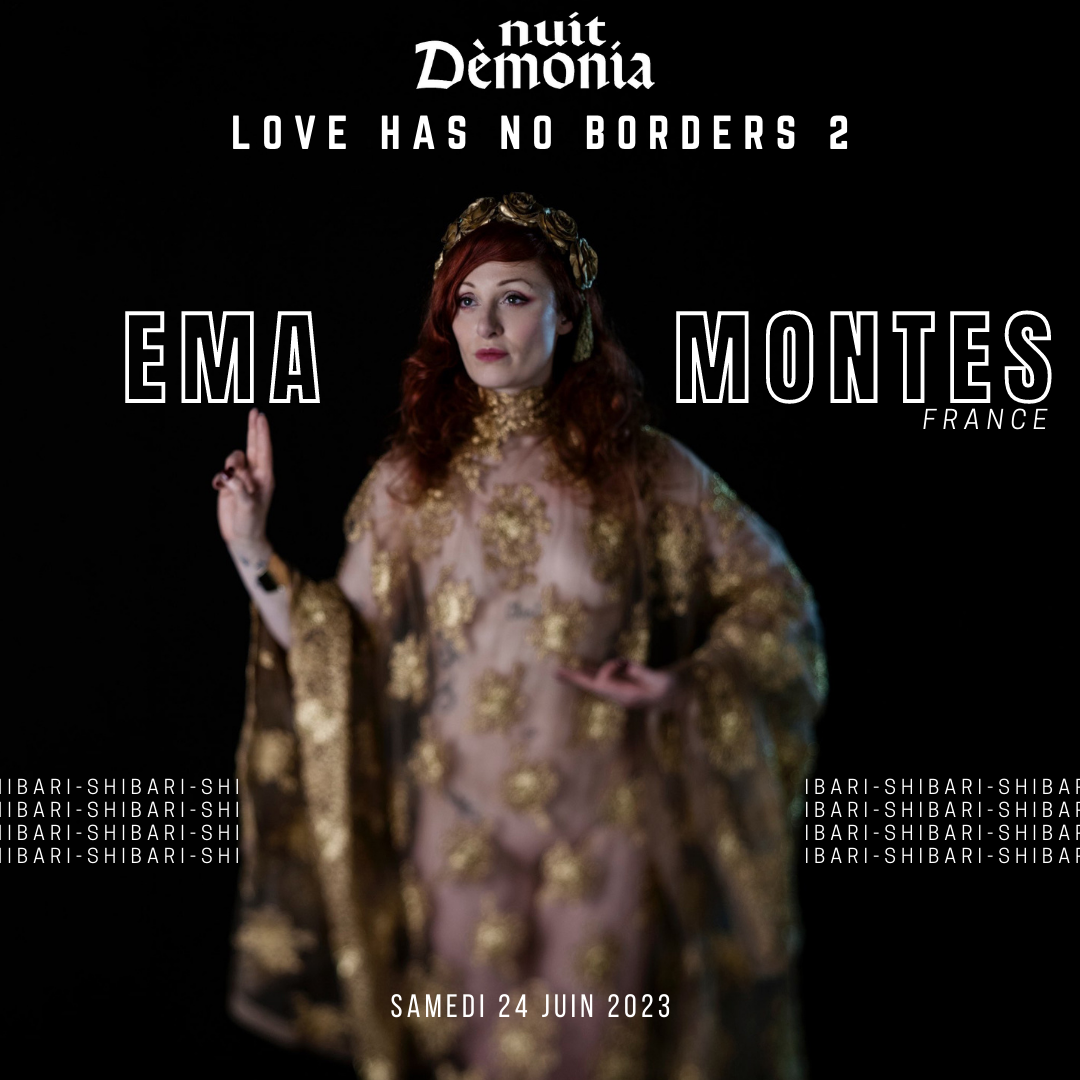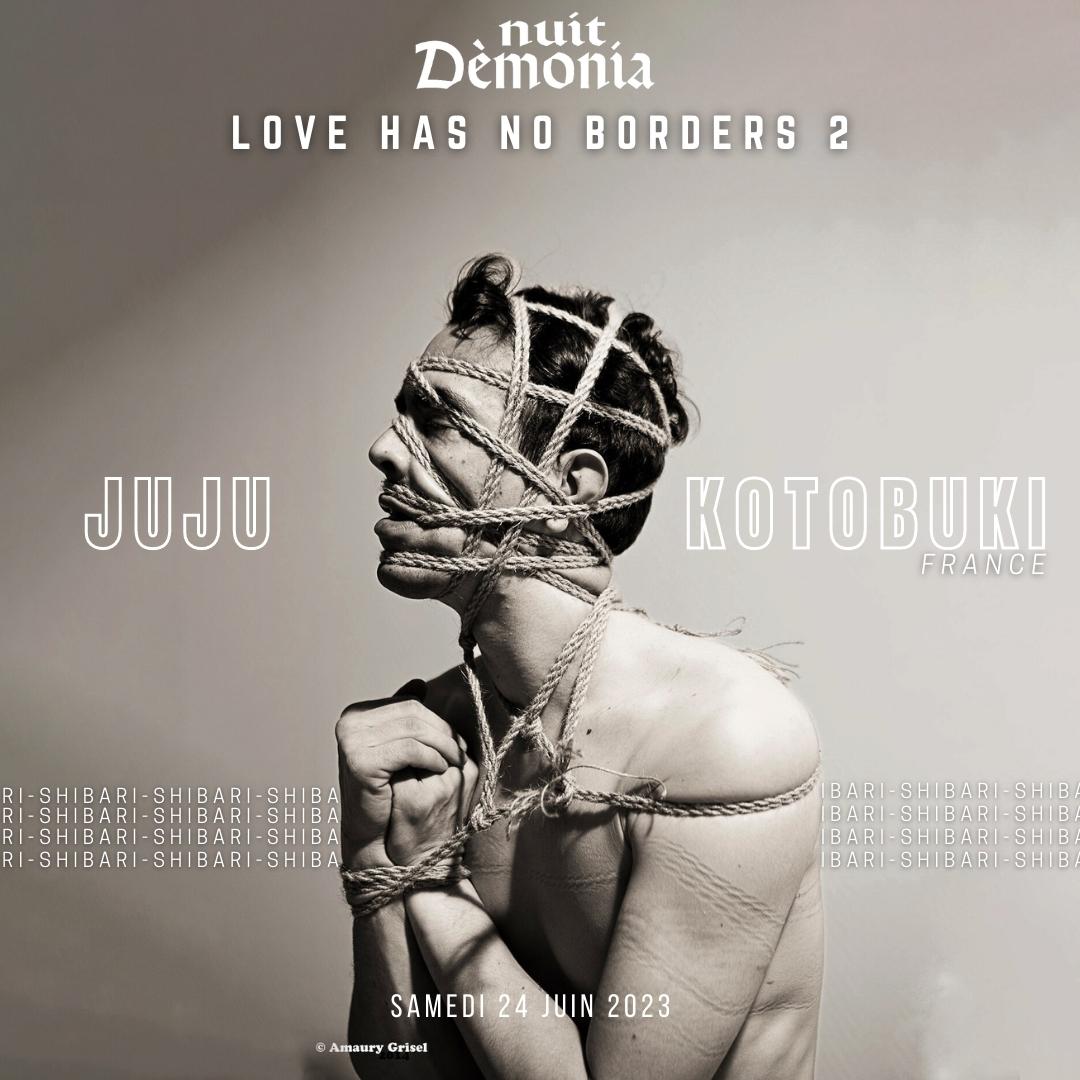 JUJU KOTOBUKI
🇬🇧 Juju Kotobuki who started as a model about ten years ago and who took advantage of living in Japan to train with Ajime Kinoko, the darling of the new generation of Tokyo shibarists.
Since then he has performed as a model or endearing from Paris to Berlin, from Tokyo to Taipei.
🇫🇷 Juju Kotobuki qui quant à lui a démarré comme modèle il y a une dizaine d'années et qui a profité de vivre au Japon pour se former auprès d'Ajime Kinoko, la coqueluche de la nouvelle génération de shibaristes tokyoïtes.
Depuis il a performé en tant que modèle ou attachant de Paris à Berlin, de Tokyo à Taipei.
Pour ne pas rater le prochain line up, prends ta place dès à présent  pour la Nuit Dèmonia – Love has no borders 2 ici
La line up des artistes présents lors des précédentes Nuit Dèmonia.
In The Mood For Lust
LIONEL OPHIS
🇬🇧  Although preferring to practice in the context of intimate games or private parties more than on a stage, Lionel Ophis remains a seasoned practitioner.
A follower of Shibari and other multi-sensory connections for several years, his approach is particularly inspired by the Naka style.
🇫🇷 Bien que préférant pratiquer dans le cadre de jeux intimes ou de soirées privées plus que sur une scène, Lionel Ophis reste un pratiquant aguerri.
Adepte du Shibari et d'autres connexions multi sensorielles depuis plusieurs années, son approche s'inspire particulièrement du style Naka.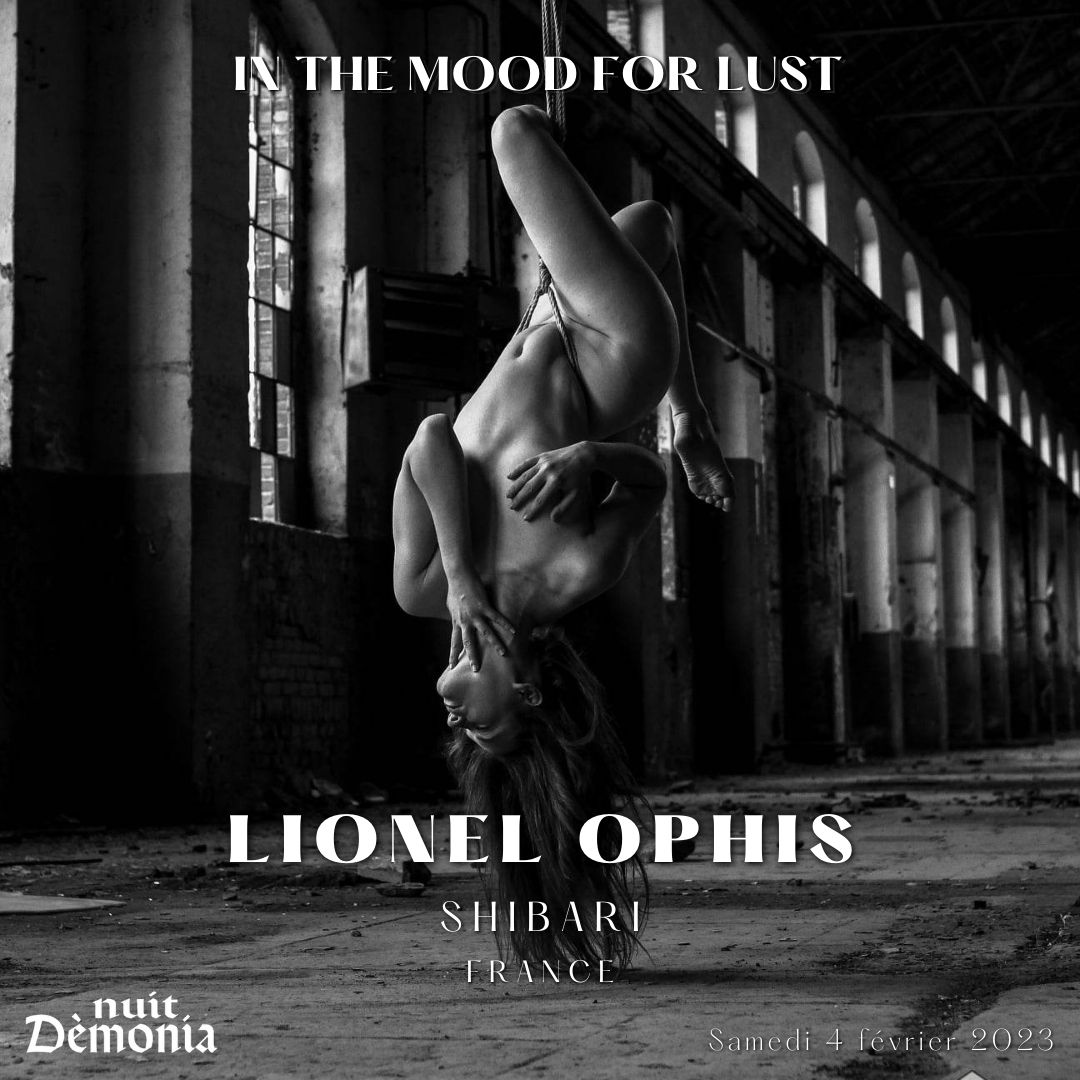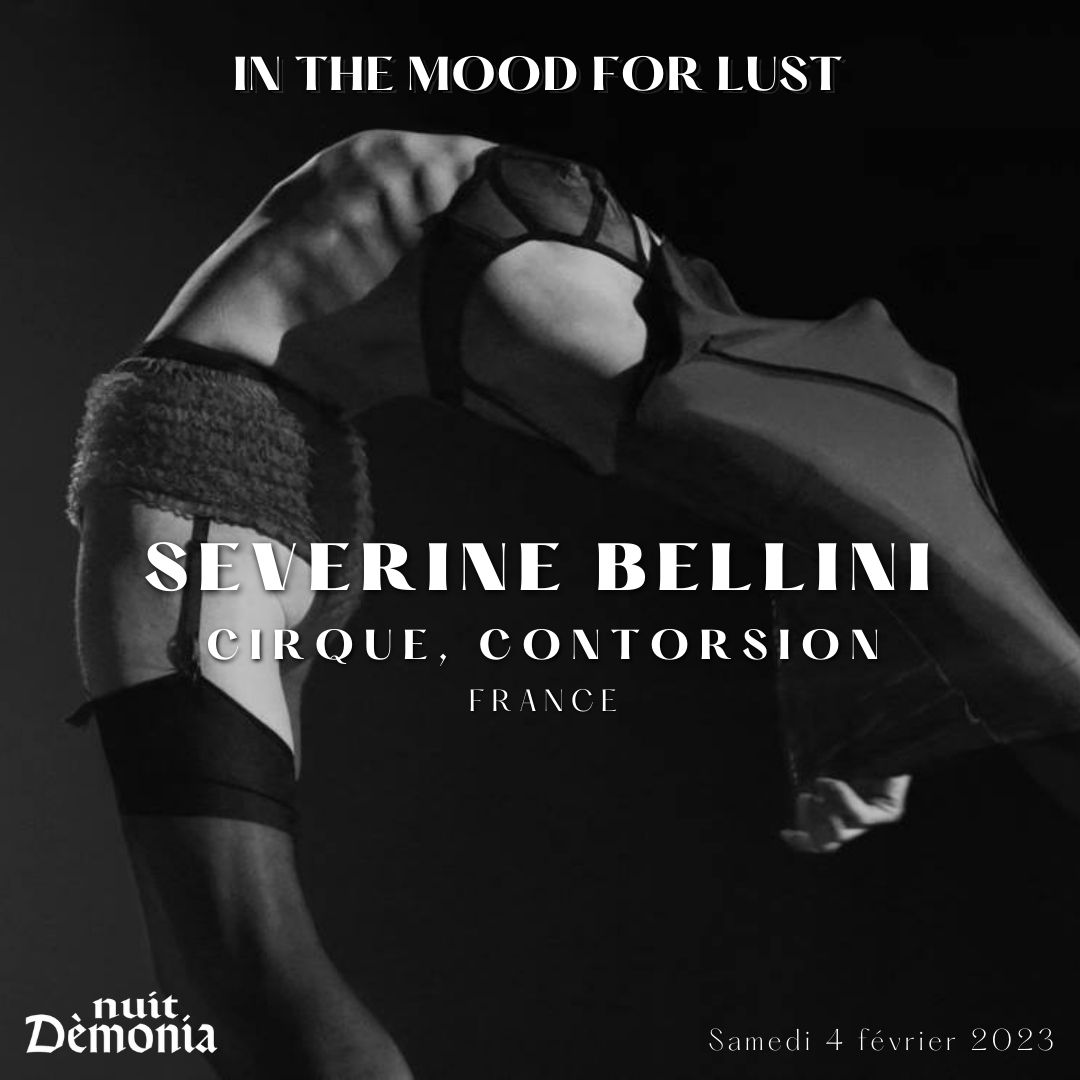 SEVERINE BELLINI
🇬🇧  Séverine Bellini, aka La Bella Bellini, is a performer, contortionist and circus artist. She collaborates with many companies, circuses or Cabaret and was one of the permanent members of Cirque Electrique.
Co-Founder of cult, twerk, Krump, it seems that nothing stops Séverine Bellini when it comes to exploring the possibilities of the body.
🇫🇷 Séverine Bellini, aka La Bella Bellini, est performeuse, contorsionniste et circacienne. Elle collabore avec de nombreuses compagnies, cirques ou Cabaret et a fait partie des membres permanents du Cirque Électrique. 
Co-Fondatrice des soirées culte, twerqueuse, Krumpeuse, il semble que rien n'arrête Séverine Bellini lorsqu'il s'agit d'explorer les possibilités du corps. 
TYKA
🇬🇧  In 2010, she discovered the practice of ropes through a video of a master of Shibari Yukimura Haraki. The following year, she met Docvale with whom she shared and practiced this discipline on international stages.
Sensei Naka Araki will totally change his vision. Rope model, teacher, today Tyka has withdrawn from the performative world, in order to devote herself to a more intimate practice of her bondage.
🇫🇷 En 2010, elle découvre la pratique des cordes au travers d'une vidéo d'un maître de Shibari Yukimura Haraki. L'année suivante, elle fait la rencontre de Docvale avec qui elle partagera et pratiquera cette discipline sur les scènes internationales.
Le sensei Naka Araki changera totalement sa vision. Modèle de corde, enseignante, aujourd'hui Tyka s'est mise en retrait du milieu performatif, afin de se consacrer à une pratique plus intimiste de son bondage.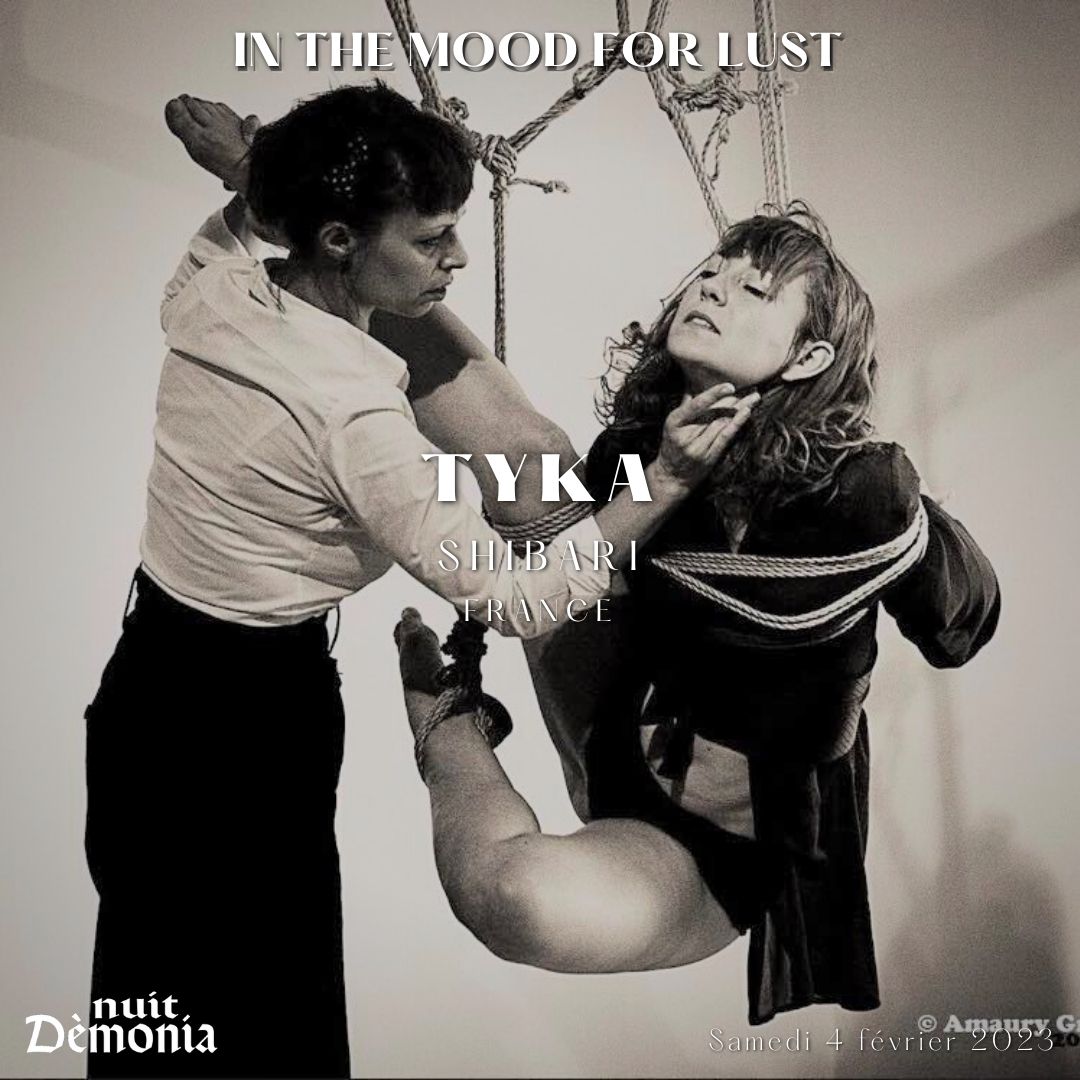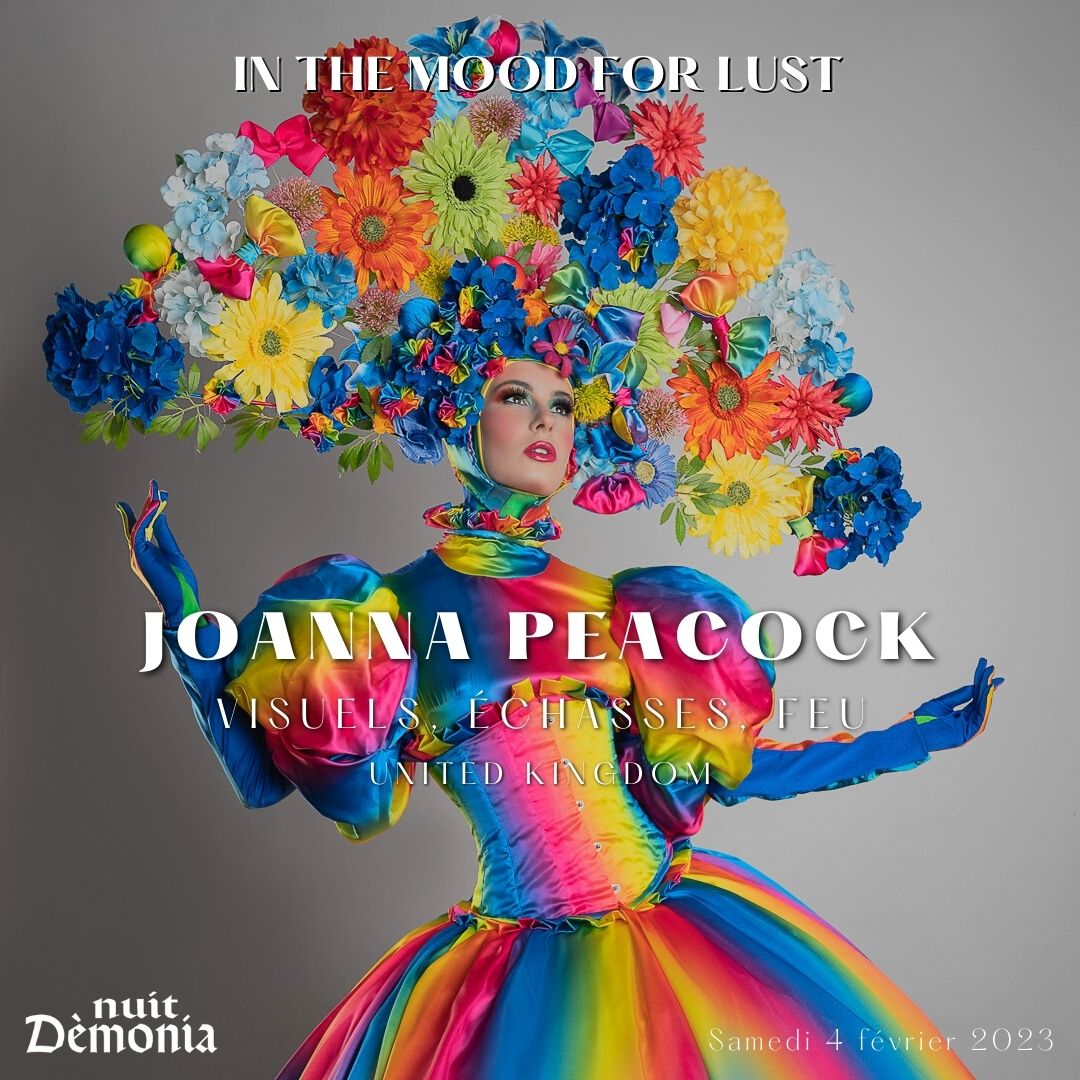 JOANNA PEACOCK
🇬🇧  A graduate of fine arts, this Anglo-Saxon artist initially developed a work of painting and sculpture. She sees costume making as a natural development from sculpture.
For 25 years, she has traveled the world with her shows and parades. Combining fire, water, new technologies, light, costumes. She collaborates as much with prestigious brands (Mercedes, Louis Vuitton…), clubs such as the Cocoon of Ibiza, festivals such as Glastonbury, the record industry.
🇫🇷 Diplômée des beaux-arts, cette artiste anglo-saxonne développe au départ un travail de peinture et de sculpture. Elle considère la fabrication de costumes comme un développement naturel de la sculpture.
Depuis 25 ans, elle sillonne le monde avec ses spectacles et ses parades. Associant, le feu, l'eau, les nouvelles technologie, la lumière, les costumes. Elle collabore autant avec des marques prestigieuses (Mercedes, Louis Vuitton…), des club tel que le Cocoon d'Ibiza, des festivals tel Glastonbury, l'industrie du disque.
CARMEN LAFRAN
🇬🇧  Performer, choreographer, butoh dancer and researchers in philosophy around the body and movement.
Based in Berlin, she travels indistinctly between painting, poetry, installation, performance and dance, she collaborates with many artists and her work travels, from Kiev, to Istanbul via The Hague or Venice.
🇫🇷 Artiste performeuse, chorégraphe, danseuse butoh et chercheuses en philosophie autour du corps et du mouvement.
Basée à Berlin, elle voyage indistinctement entre la painture, la poésie, l'installation, la performance et la danse, elle collabore avec de nombreux artistes et son travail voyage, de Kiev, à Istanbul en passant par La Hague ou Venise.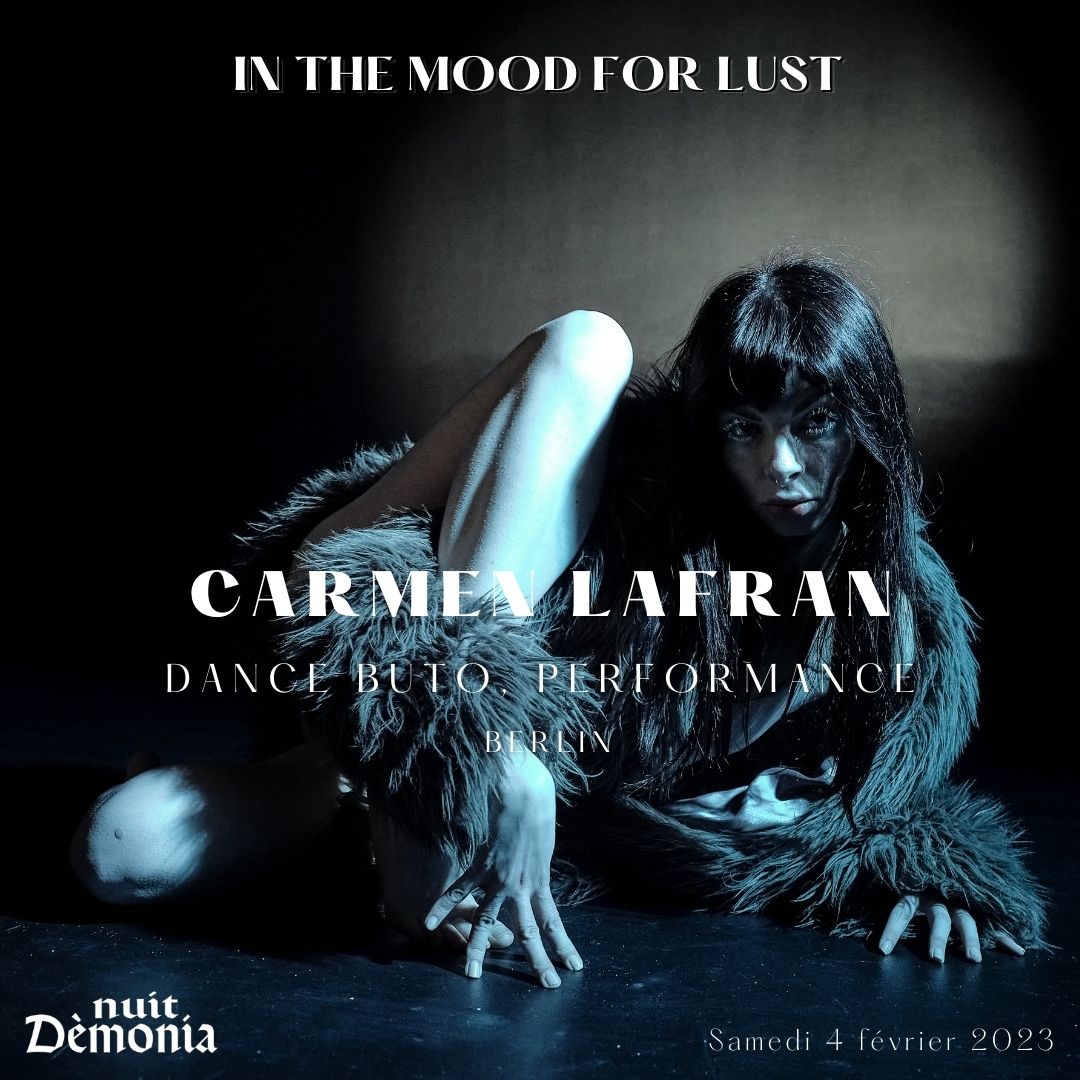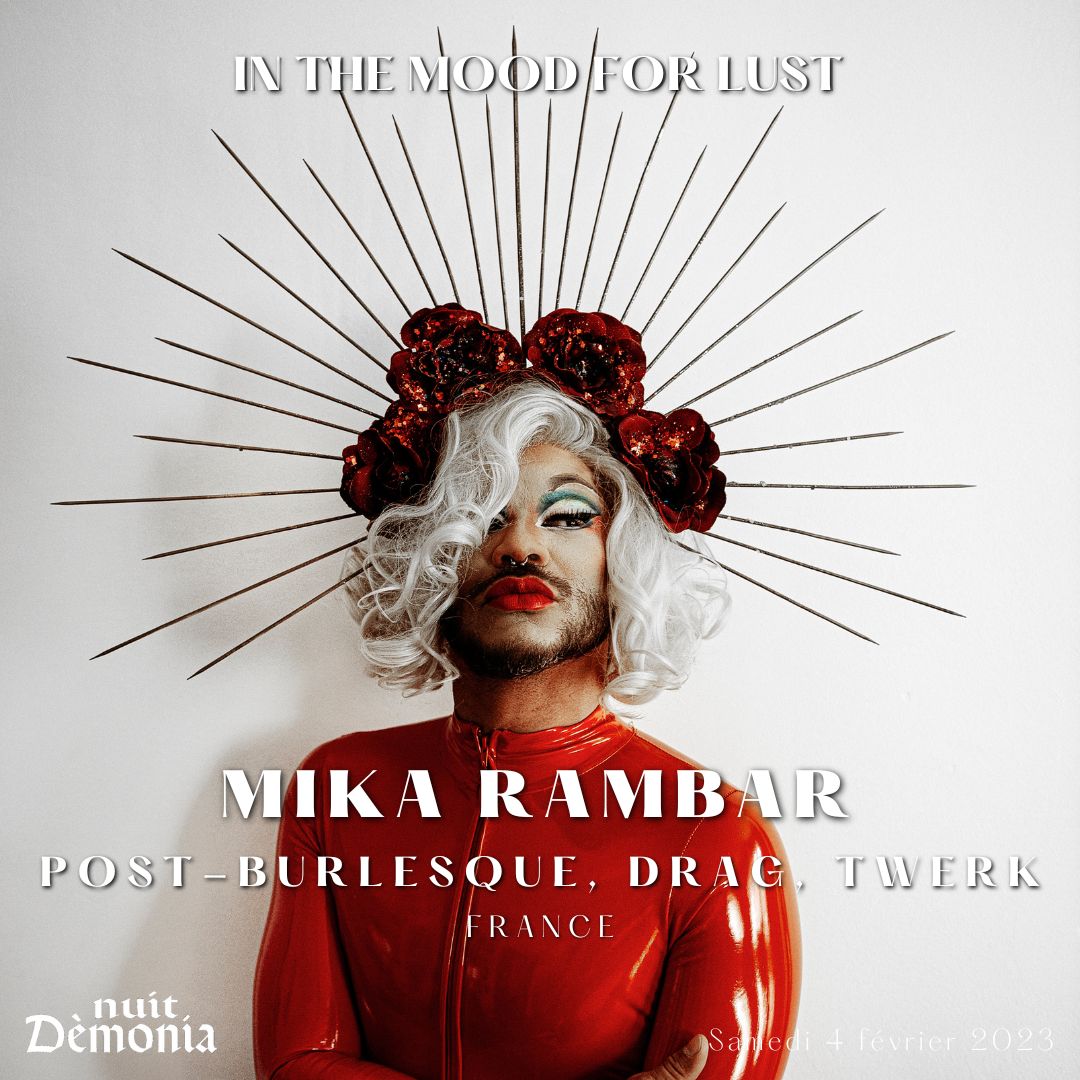 MIKA RAMBAR
🇬🇧 Bearded, ultra-made up, painted, wigged, dressed or often very undressed, he/she develops a bodily practice at the crossroads of several references such as burlesque, cabaret, hip-hop female hop, striptease, clowning, peep show, quirky art or even art history…
Like a chameleon, Mika Rambar is a living tableau. Object of metamorphoses, navigating in an ocean of signs, the body of the artist crosses the history of forms and representations in a gesture of creolization of Western stereotypes.
🇫🇷 Barbu·e, ultra-maquillé·e, peint·e, perruqué·e, habillé·e ou souvent très déshabillé·e, il·elle développe une pratique corporelle au croisement de plusieurs références comme le burlesque, le cabaret, le hip-hop féminin, le strip-tease, clown, le peep show, l'art décalé ou même l'histoire de l'art…
Tel un caméléon, Mika Rambar est un véritable tableau vivant. Objet de métamorphoses, naviguant dans un océan de signes, le corps de l'artiste traverse l'histoire des formes et des représentations dans un geste de créolisation des stéréotypes occidentaux.
YANNICK UNFRICHT
🇬🇧  Impressive figure of the hexagonal underground scene for many years. Performer, visual artist, working on memory gripped by a ghostly strangeness, Yannick Unfricht is in his own way a sorcerer.
He is a member of the collective HEY! LA COMPAGNIE with whom he presents both stage performances and installations as part of the HEY! At the Halle Saint-Pierre. Her work, strongly influenced by Butoh dance, explores the body in every corner.
🇫🇷 Impressionnante figure de la scène underground hexagonale depuis de nombreuses années. Performeur, plasticien, travaillant sur la mémoire emprise d'une étrangeté fantomatique, Yannick Unfricht est à sa façon un sorcier.
Il est membre du collectif HEY ! LA COMPAGNIE avec qui il présente autant des performances scéniques que des installations dans le cadre des expositions HEY ! À la Halle Saint Pierre. Son travail, fortement influencé par la danse Butoh, explore le corps dans tous les recoins.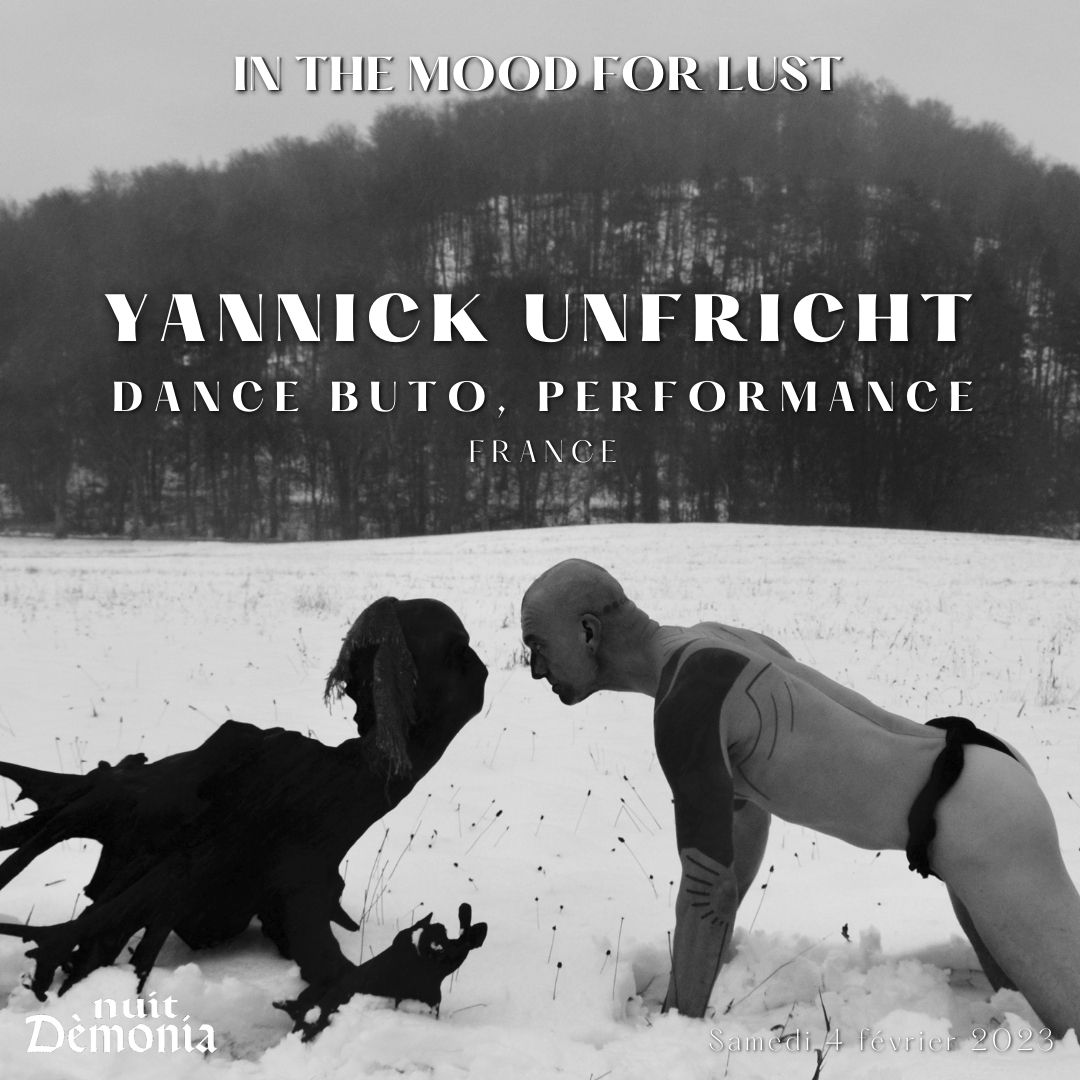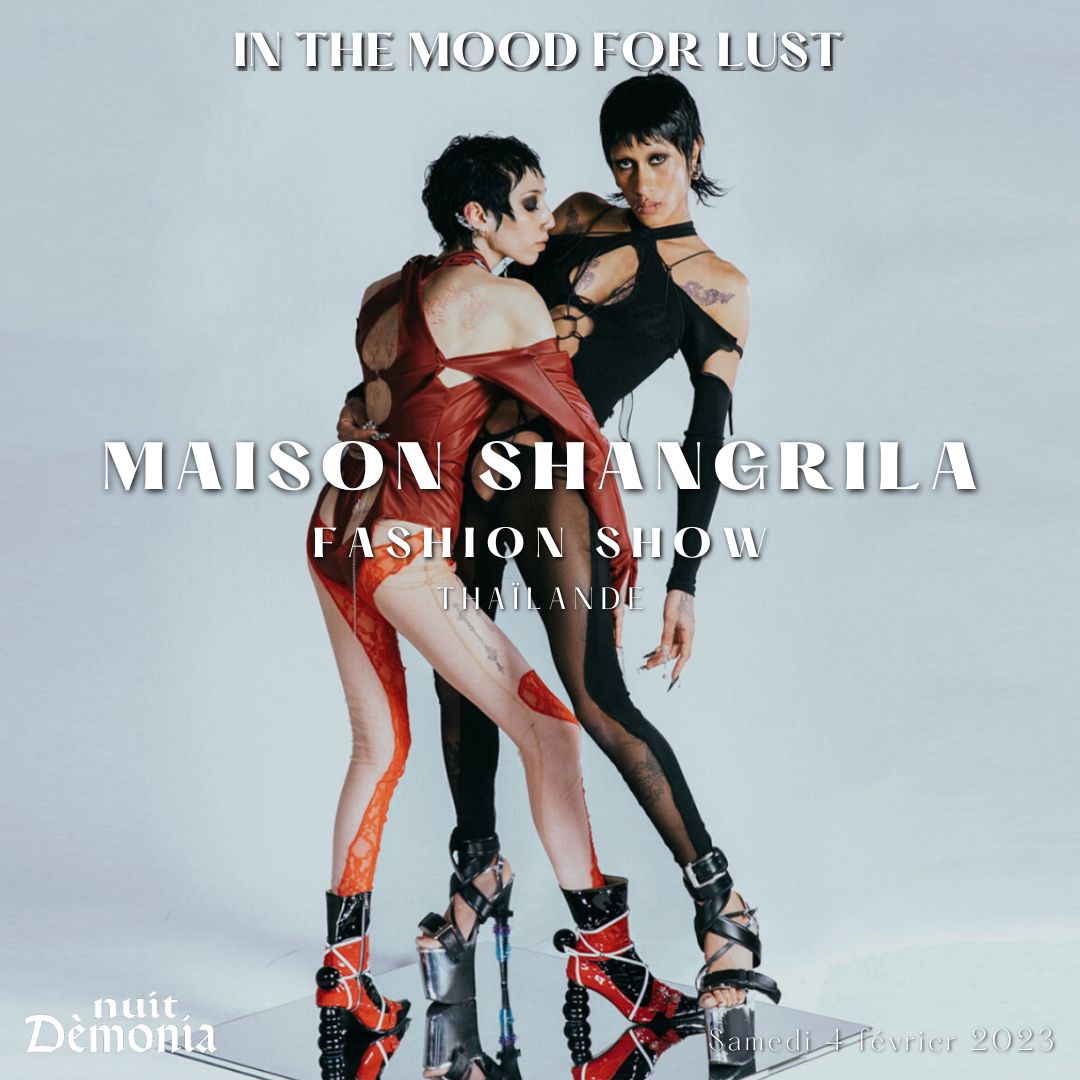 MAISON SHANGRILA
🇬🇧 Fashion designer, born in Bangkok and based in Paris, Shangrila created the Maison Shangrila while she was still a student at the IFM Paris where she did her first fashion show during the fashion week.
Shangrila's creations focus on the intersection of sexuality, eroticism and identity issues in an approach that creates a tension between highly structured pieces, bordering on sculpture, and destructuring. In parallel, Shangrila is also a pole dancer.
🇫🇷  Designeuse de mode, née à Bangkok et basée à Paris, Shangrila crée la Maison Shangrila alors qu'elle est encore étudiante à l'IFM Paris où elle fera son premier défilé dans le cadre de la fashion week.
Les créations de la Maison Shangrila s'attachent à porter un regard croisé entre sexualité, érotisme et questions d'identité dans une approche qui crée une tension entre des pièces très structurées, à la limite de la sculpture, et la déstructuration. En parallèle, Shangrila est aussi pole danseuse.
DIEZ
🇬🇧 Diez is a founding member of the Paradigm collective and the creation and dissemination venues Chateau404 from 2017-2020 in France, and Moli XIC since 2019 in Spain.
Many of his installations are
participative, they call the spectator to integrate environments and act on them.
As for Diez's visual universe, it oscillates between a refined graphic style and a more complex style borrowing from fractal figures. It results from it complex and sometimes
paradoxical, charged of onirism, but also of a certain darkness which leaves little doubt on the vision that Diez makes of the world which surrounds him.
🇫🇷Diez est l'un des membres fondateurs du collectif Paradigme et des lieux de création et diffusion Chateau404 de 2017-2020 en France, et Moli XIC depuis 2019 en Espagne.
Bon nombre de ses installations sont
participatives, elles appellent ainsi le spectateur à intégrer des environnements et à agir sur eux.
Quant à L'univers visuel de Diez, il oscille entre un style graphique épuré et un style plus complexe empruntant aux figures fractales. Il en résulte des œuvres complexes et parfois
paradoxales, chargées d'onirisme, mais aussi d'une certaine noirceur qui laisse peu de doutes sur la vision que se fait Diez du monde qui l'entoure.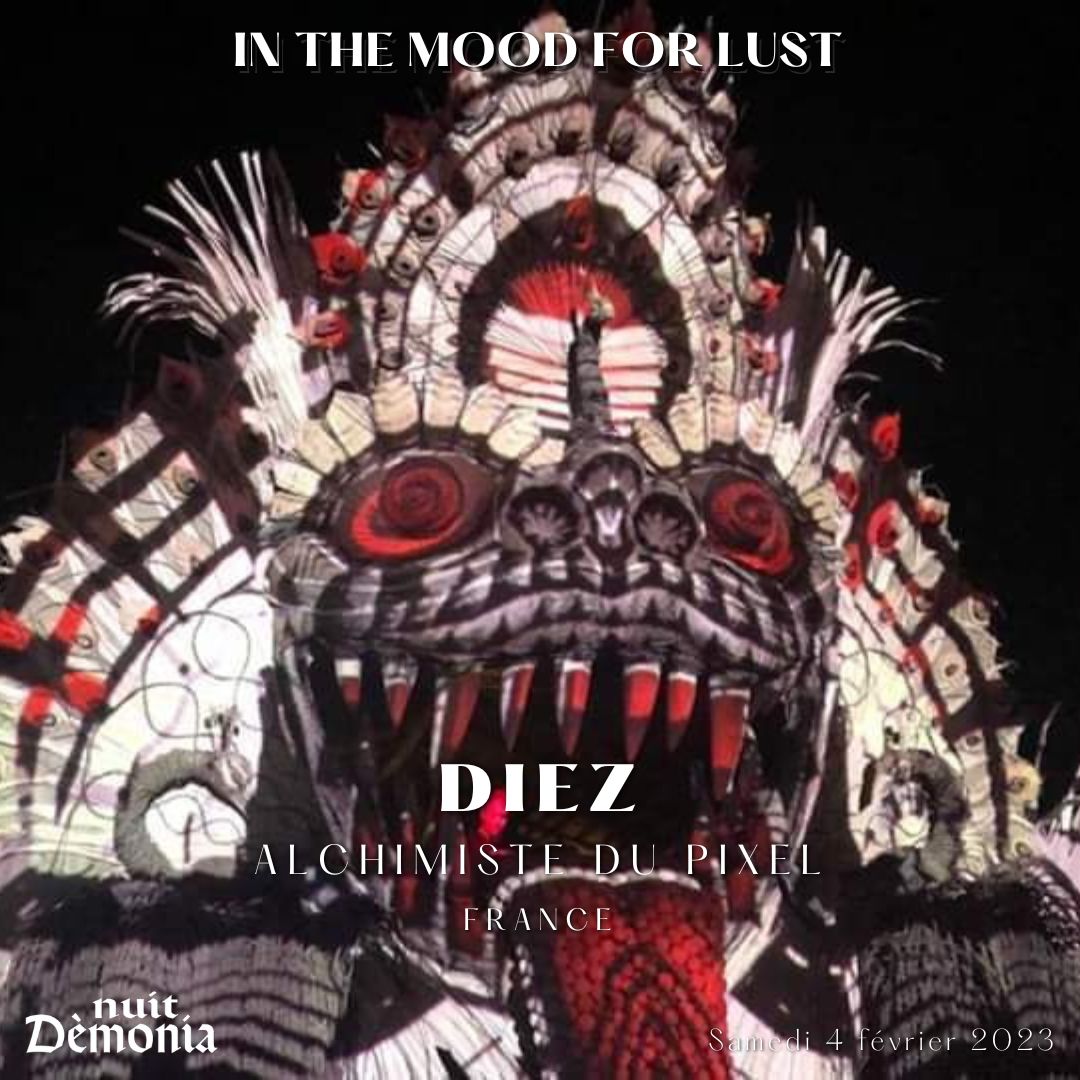 AMF
🇬🇧 Characterized by ritual performances, releasing powerful bodily and plastic energies, AMF's performances leave no one indifferent.
Combining plastic art, installation, body-art, suspensions, music, stylism, fashion shows, AMF has performed all over the world.
🇫🇷 Caractérisées par des performances rituelles, dégageant de puissantes énergies corporelles et plastiques, les prestations de AMF ne laissent personne indifférent.
Combinant art plastique, installation, body-art, suspensions, musiques, stylisme, défilés de modes, AMF s'est produit un peu partout dans le monde.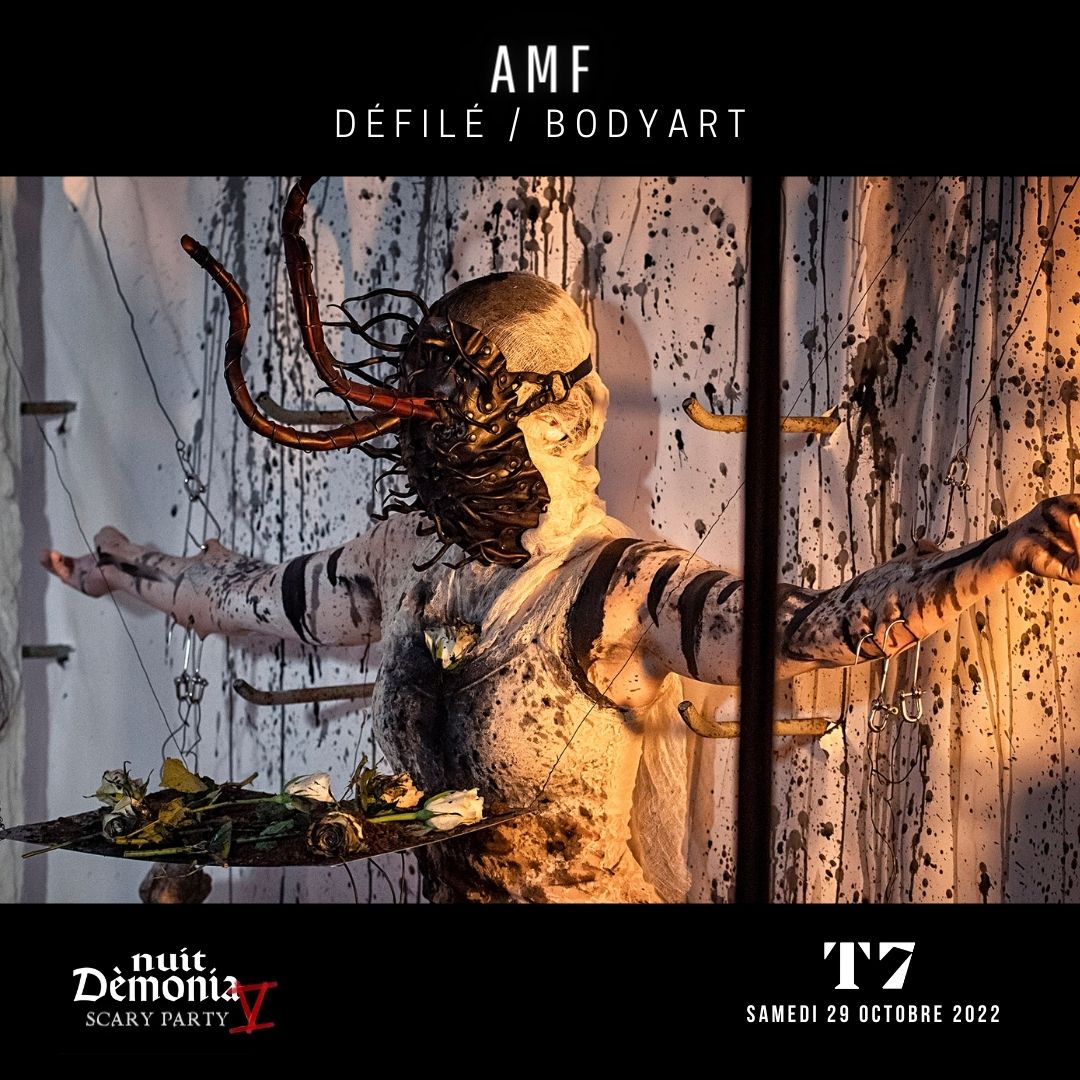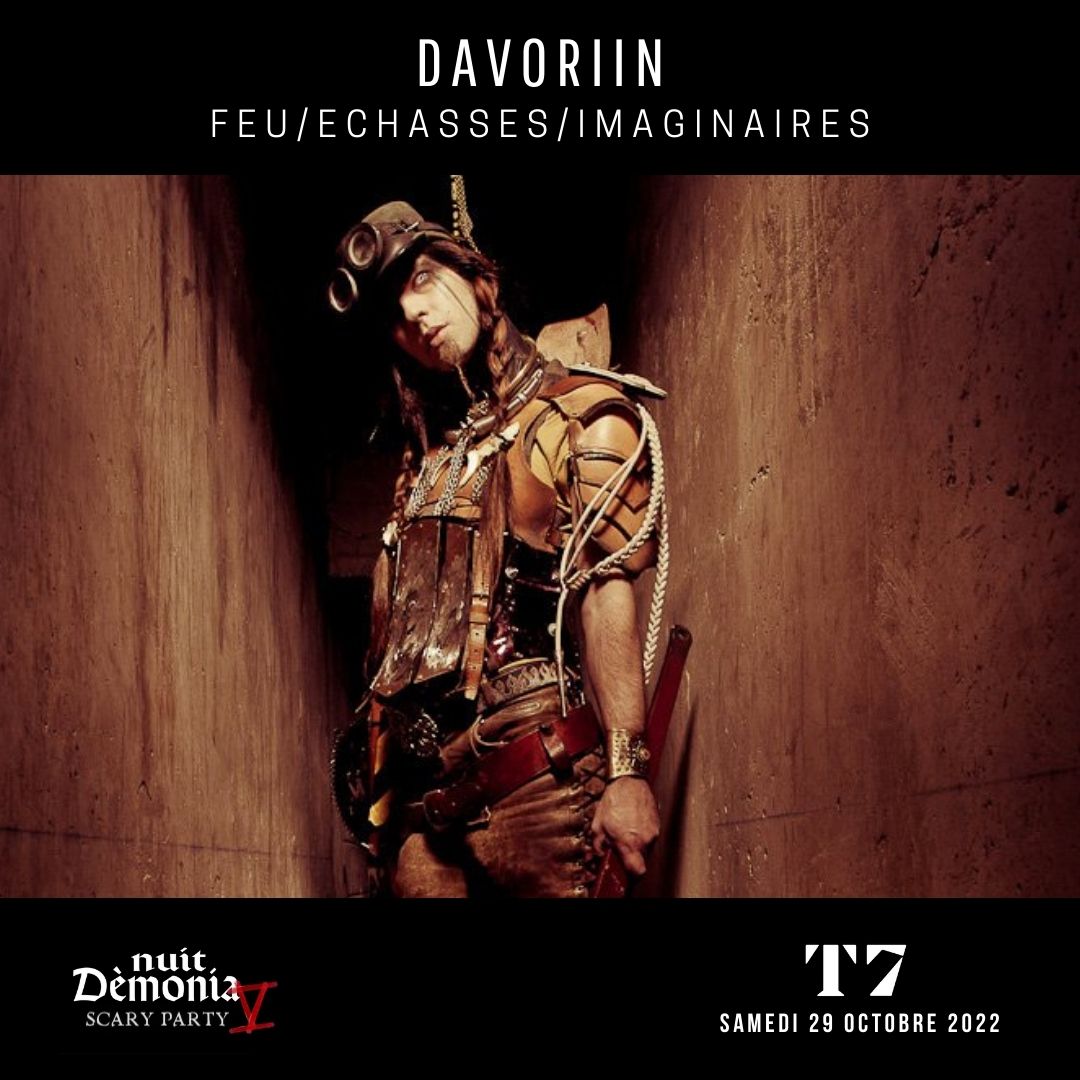 DAVORIIN
🇬🇧 Davoriin Doorian, is a multidisciplinary artist, producer, director, musician
musician and visionary. Through different art forms, he creates immersive
he creates immersive experiences by mixing pyrotechnics, dance and
and street performance. He is both fascinated and deeply committed to understanding and
the wisdom of ancient cultures, mythology and the secrets of humanity.
of humanity.
🇫🇷 Davoriin Doorian, est un artiste pluridisciplinaire, producteur, metteur en
scène, musicien et visionnaire. A travers différentes formes d'arts, il
crée des expériences immersives en mêlant pyrotechnie, danse et spectacle
de rue. Il est à la fois fasciné et profondément engagé à comprendre et à
promouvoir la sagesse des cultures anciennes, la mythologie et les secrets
de l'humanité.
SCARLET MARTINI
🇬🇧 Burlesque dancer, fire artist, founder of the Roma Burlesque School, Scarlet Mertini is Italian, world famous of the International Burlesque scene.
She has performed all over Europe, as well as in Japan, the United States and Canada. She has shared the most beautiful stages with the greatest artists of Cabaret.
🇫🇷 Danseuse Burlesque, artiste de feu, fondatrice de la Roma Burlesque School, Scarlet Mertini est Italienne, mondialement connue de la scène Burlesque Internationale.
Elle a performée autant dans toute l'Europe, qu'au Japon, aux Etats-Unis ou au Canada. Elle a partagé les plus belles scènes aux côtés des plus grands artistes de Cabaret.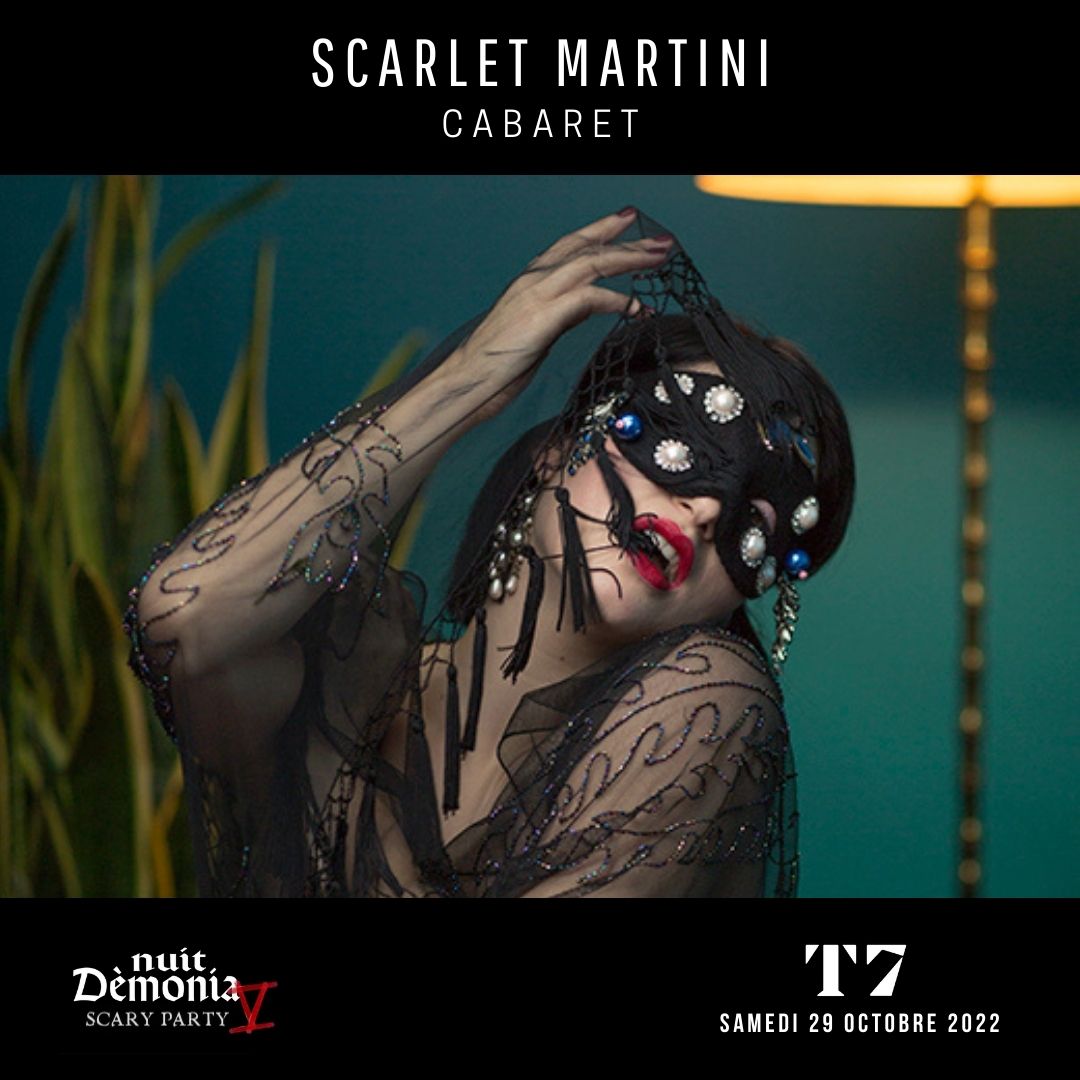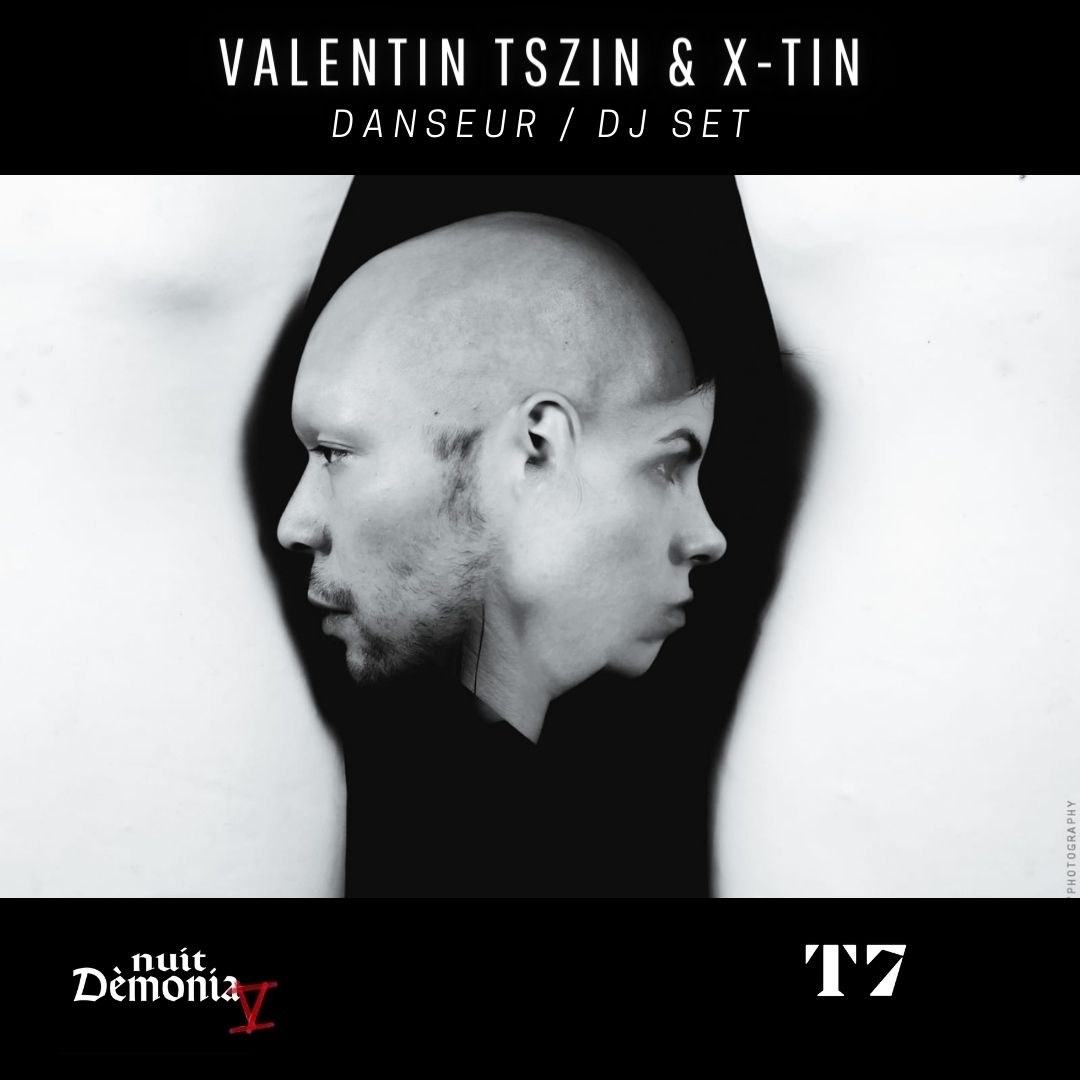 VALENTIN TSZIN & X-TIN
🇬🇧 Valentin Tszin combines the qualities of buto dancer, film actor, comedian, performer and throat singer.
He transports the spectator into fantastical and surreal worlds. Collaborating in many projects in the world of dance and performance, it is in this context that he meets the DJ X Tin with whom he will begin a collaboration between electronic music and performance to explore new territories.
🇫🇷 Valentin Tszin combine les qualités de danseur buto, acteur de cinéma, comédien, performeur et chanteur guttural.
Il transporte le spectateur dans des mondes fantasques et surréalistes. Collaborant à de nombreux projets dans le monde de la danse et de la performance, c'est dans ce contexte qu'il rencontre la Dj X Tin avec laquelle il va entamer une collaboration entre musique électronique et performance vers l'exploration de nouveaux territoires.
AMAURY GRISEL
🇬🇧 With his 15 years of practice, Amaury is today a key figure of the French Shibari scene.
With his model and companion Franckie Vega, they offer performances of moments of complicity, abandonment and ecstatic constraints at the border of a suspended lovemaking.
🇫🇷 Avec ses 15 ans de pratique, Amaury est aujourd'hui une figure incontournable de la scène française de Shibari.
Avec sa modèle et compagne Franckie Véga, ils offrent des performances d'instants de complicité, d'abandon et de contraintes extatiques à la frontière d'un ébat amoureux en suspend.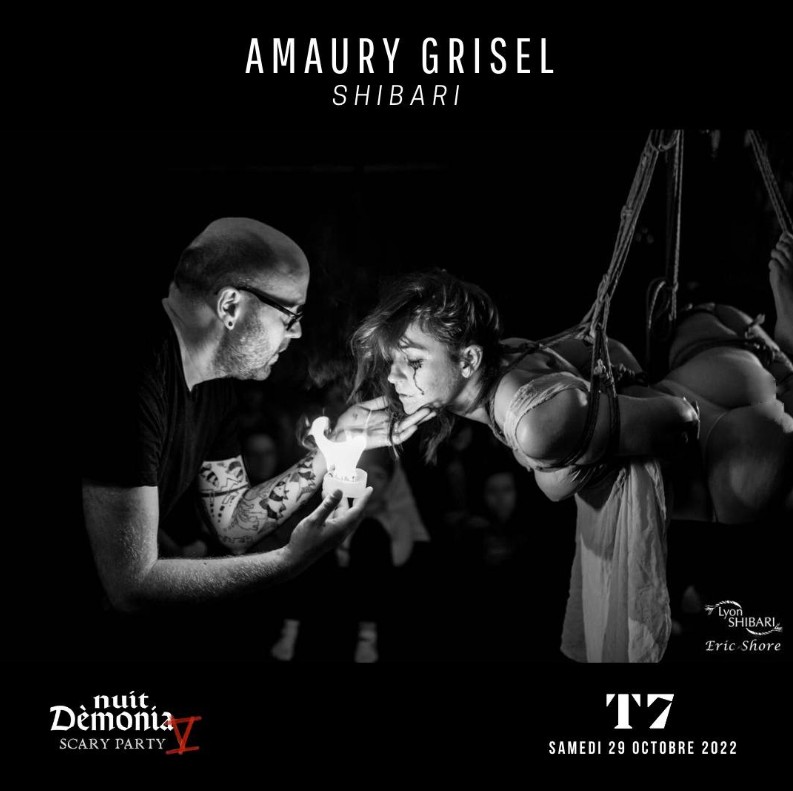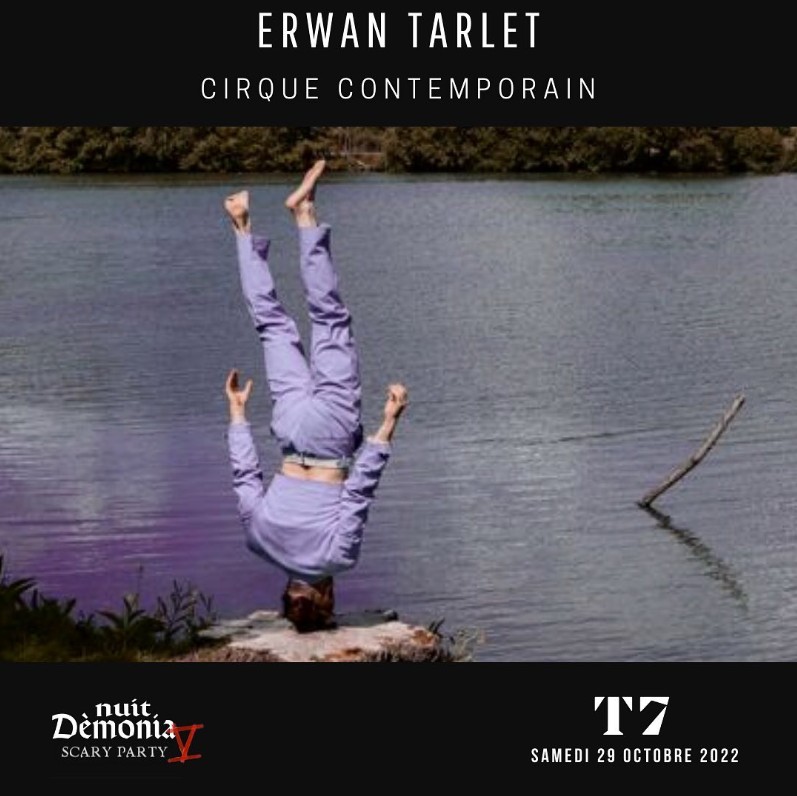 ERWAN TARLET
🇬🇧 Erwan Tarlet is an iconoclastic figure in the contemporary circus landscape. After entering the art world through break dancing, he turned to the circus.
Between the work of the strap, the points of classical dance, the games of balance, Erwan develops a poetic at the same time shifted and engaged. For him, the circus is not an end in itself but a medium for experimenting with transversal artistic writing.
🇫🇷  Erwan Tarlet est une figure iconoclaste dans le paysage du cirque contemporain. Après être rentré dans le monde l'art par le break danse, il s'oriente vers le cirque.
Entre le travail de la sangle, les pointes de danse classique, les jeux d'équilibre, Erwan développe une poétique à la fois décalée et engagée. Le cirque n'étant pour lui pas une fin en soi mais un médium pour l'expérimentation d'écritures artistiques transversales.
SUKA OFF
🇬🇧  This Polish artist collective was founded in 1995 by Piotr Wegrzynski and performs at fetish events throughout Europe as well as in Canada and Japan.
They have created numerous projects at the border of performing arts and video art, uniquely combining visual theater, body art and analog audiovisual techniques.
In 2007, the directors of SUKA OFF launched the INSIDE FLESH project focusing on pornographic video and photography. Their film "Carnal Fluidity" won the best feature film award at the Berlin Pornographic Film Festival in 2010.
The group's works have been exhibited in most European countries, North and South America, China and Japan (including Art Basel, Venice International Performance Art Week, or Vanilla Gallery in Tokyo) and are also in private collections and galleries in Europe, the US and Japan.
🇫🇷 Ce collectif d'artistes polonais a été fondé en 1995 par Piotr Wegrzynski et se produit lors d'événements fétichistes partout en Europe ainsi qu'au Canada et au Japon.
Ils ont créé de nombreux projets à la frontière des arts de la scène et de l'art vidéo, combinant de manière unique le théâtre visuel, le body art et les techniques audiovisuelles analogiques.
En 2007, les dirigeants de SUKA OFF ont lancé le projet INSIDE FLESH axé sur la vidéo pornographique et la photographie. Leur film « Carnal Fluidity » a remporté le prix du meilleur long métrage au Festival du film pornographique de Berlin en 2010.
Les œuvres du groupe ont été exposées dans la plupart des pays européens, en Amérique du Nord et du Sud, en Chine et au Japon (y compris Art Basel, Venice International Performance Art Week, ou Vanilla Gallery à Tokyo) et sont également dans des collections privées et des galeries en Europe, aux États-Unis et au Japon.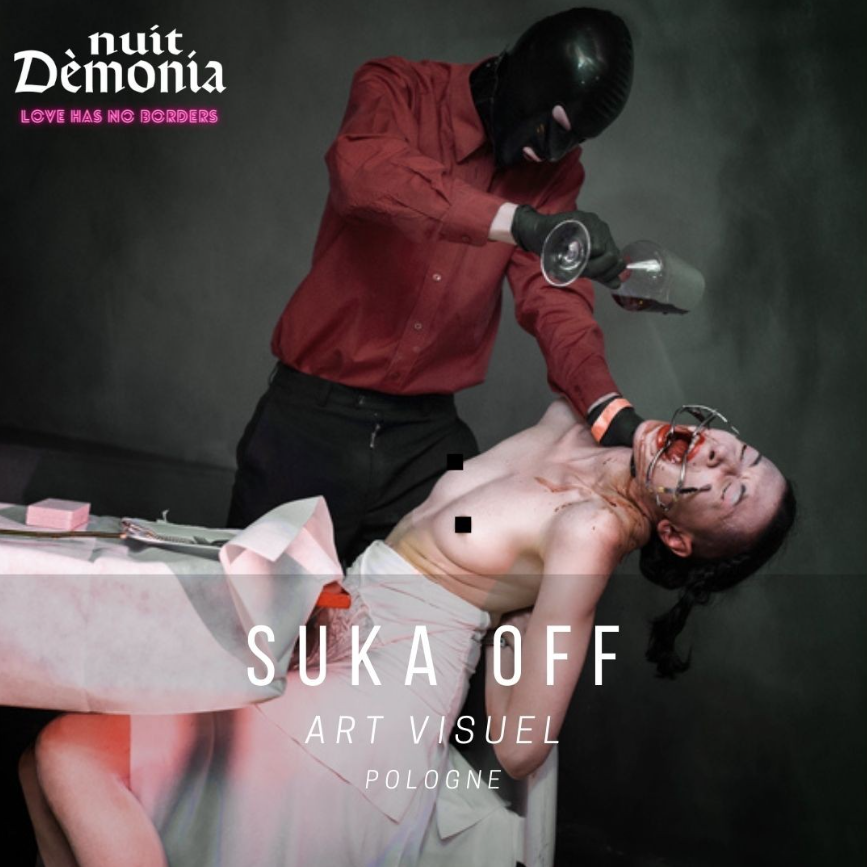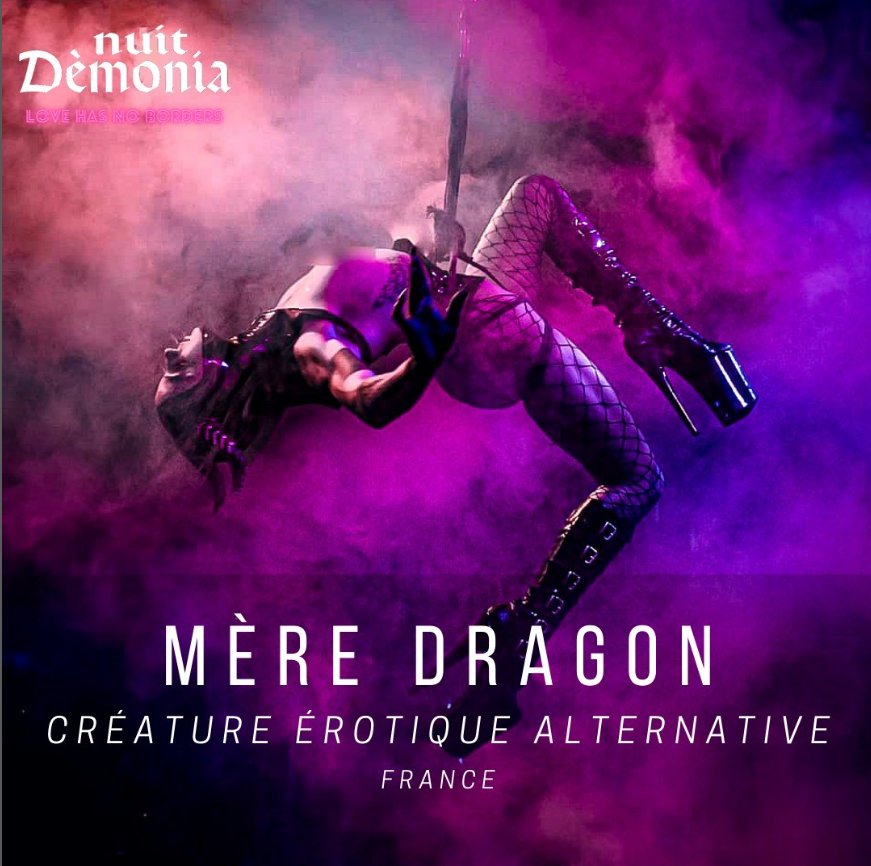 MERE DRAGON
🇬🇧 Through fetishization of the body, provocation, sensual violence & lasciviousness, without forgetting the testing of the flesh by fire & other disciplines, Mother Dragon tends to offer her explosive sublimation of female eroticism…
🇫🇷  À travers fétichisation du corps, provocation, sensuelle violence & lascivité, sans oublier la mise à l'épreuve de la chair par le feu & autres disciplines, Mère Dragon tend à offrir sa sublimation explosive de l'érotisme féminin…
ALEKSEI VON WOSYLIUS
🇬🇧 A classically trained professional dancer, Aleksei has been traveling the international burlesque and alternative cabaret scenes for about 9 years as a boylesque artist and performer.
He won the "best duo" award at the Burlesque Hall of Fame in Las Vegas with his partner Mara de Nudée in June 2018.
His characters, inspired by the Opera Ballet, Mythology or even fairy tales, will transport you with delicacy and poetry in his elegant universe and in a reverie both sensual and dreamy…
🇫🇷 Danseur professionnel de formation classique, Alekseï parcourt les scènes burlesques internationales et les cabarets alternatifs depuis environ 9 ans, en qualité d'artiste boylesque et performer.
Il gagne le prix du « best duo » au Burlesque Hall of Fame de Las Vegas avec sa partenaire Mara de Nudée en juin 2018.
Ses personnages, inspirés du Ballet de l'Opéra, de la Mythologie ou encore des contes de fées, vous transporteront avec délicatesse et poésie dans son univers élégant et dans une rêverie à la fois sensuelle et onirique…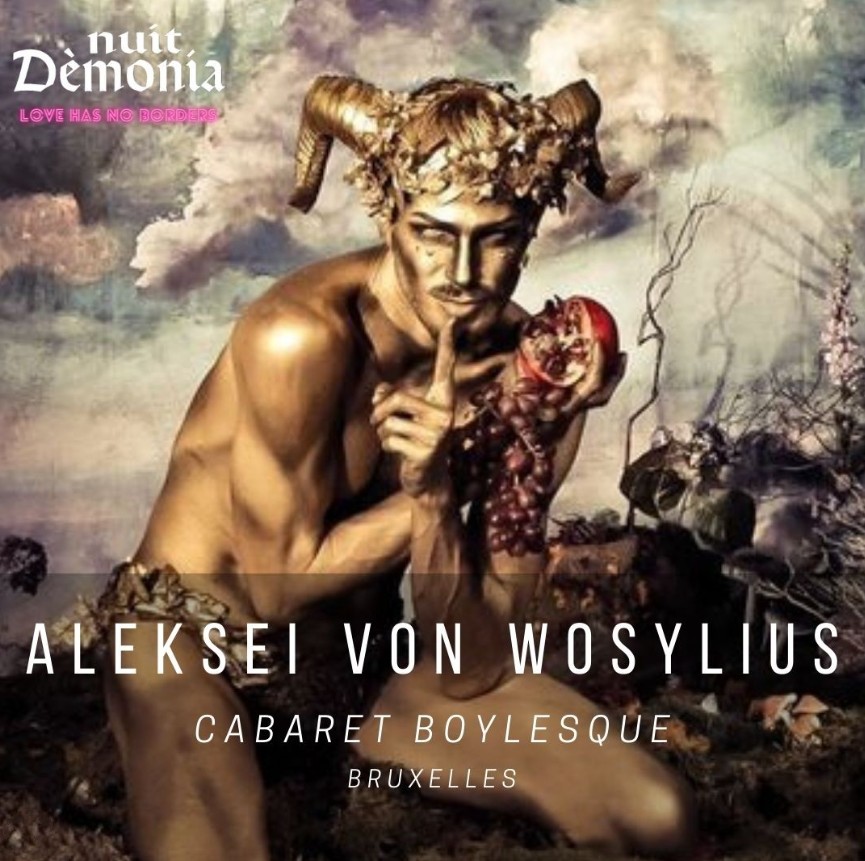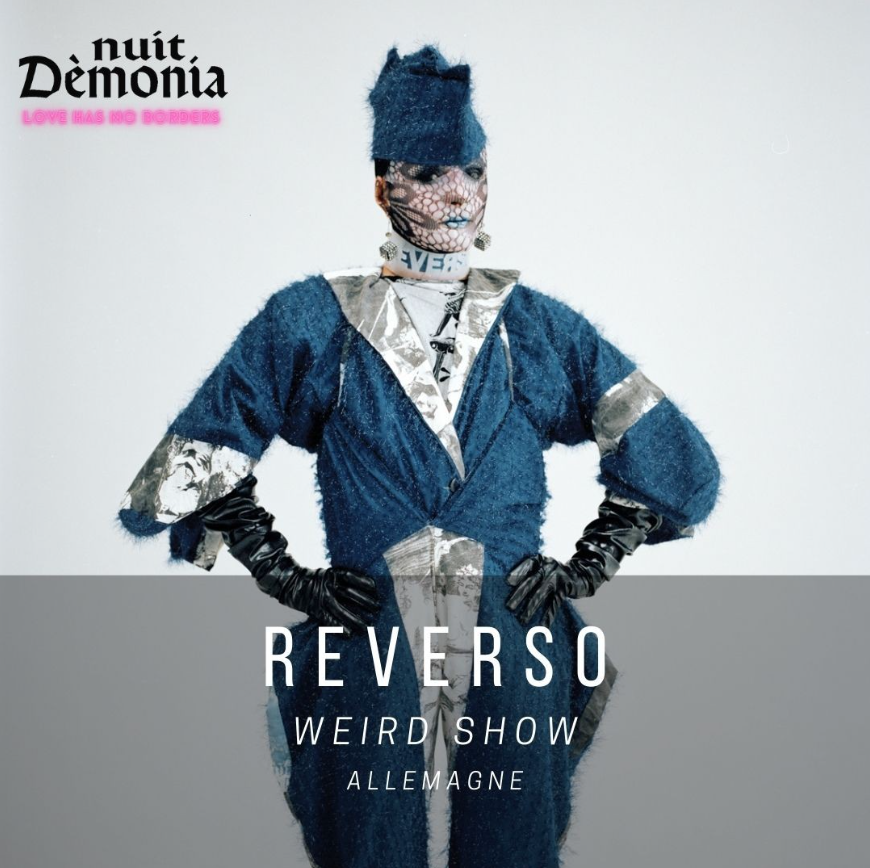 REVERSO
🇬🇧  Prolix and totally unclassifiable artist, ReveRso develops a work at the border of performance, cabaret, strangeness, ritual, contemporary art, queer and fetishism, all mixed together.
Former high priest of the mythical and selective SUPPERCLUB of Amsterdam, he radiates in the biggest capitals of the world! From parties to galleries, through clubs and out of the ordinary places, nothing stops the unique and creative madness of ReveRso, an artist who has come to push the spectator out of his comfort zone to lead him like the white rabbit into unexplored and totally crazy lands.
🇫🇷  Artiste prolixe et totalement inclassable, ReveRso développe un travail à la frontière de la performance, du cabaret, de l'étrangeté, du rituel, de l'art contemporain, du queer et du fétichisme, tout ça mélangé.
Ancien grand prêtre du mythique et sélecte SUPPERCLUB d'Amsterdam, il rayonne dans les plus grandes capitales du monde ! De soirées en galeries, en passant par les clubs et les endroits hors normes, rien n'arrête la folie unique et créative de ReveRso, artiste venu bousculer le spectateur hors de sa zone de confort pour le conduire tel le lapin blanc dans des contrées inexplorées et totalement déjantées.
ANNA BOGEN
🇬🇧 Pioneer of the Hexagonal Cabaret Burlesque scene, Anna Bogen continues to haunt a few obscure evenings that she carefully chooses to present her shows that oscillate between burlesque, stripping, orientalism and fetishism.
🇫🇷 Pionnière de la scène Cabaret Burlesque Hexagonale, Anna Bogen continue de hanter quelques soirées obscures qu'elle choisit avec minutie pour présenter ses shows qui oscillent entre burlesque, effeuillage, orientalisme et fétichisme.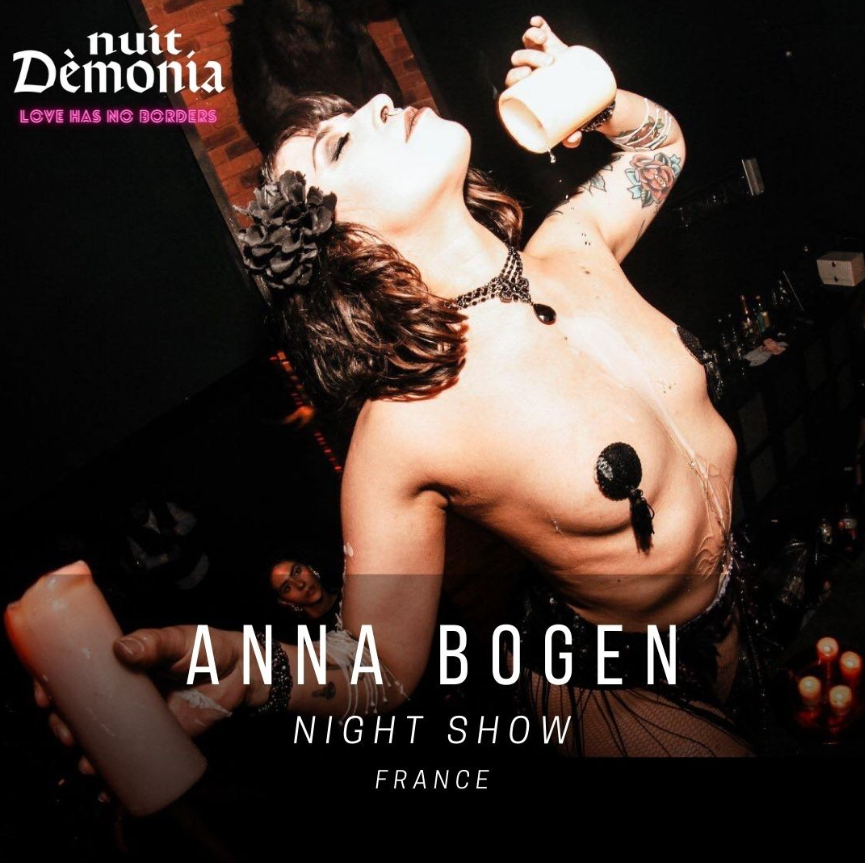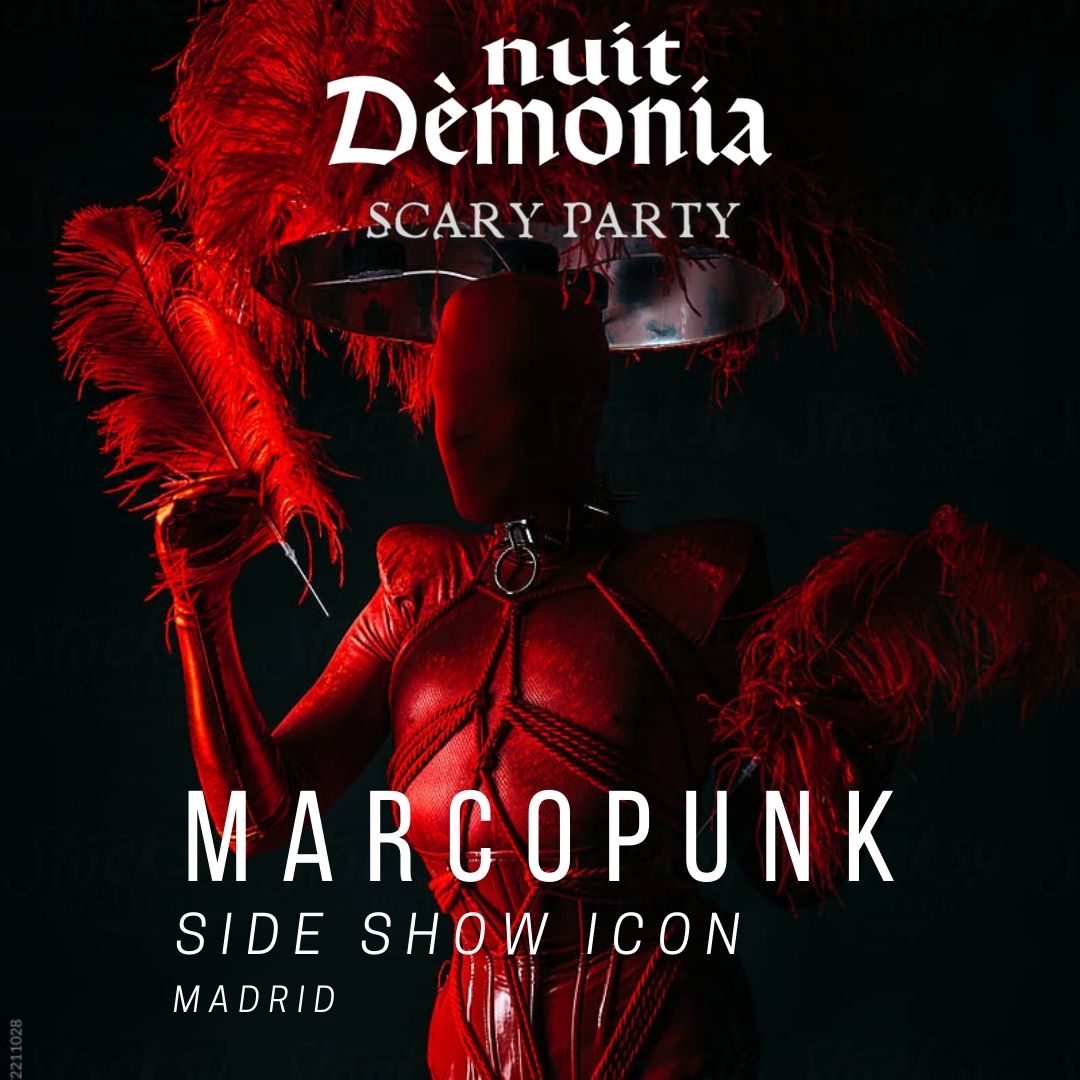 MARCOPUNK
🇬🇧  MARCOPUNK is a multi-talented international artist with an extravagant personality based in Madrid, Spain. He started his career as a dancer, makeup artist and host in some of the biggest clubs, where he developed his skills as a performer. Marcopunk dives into the world of circus, fetish and grotesque.
🇫🇷  MARCOPUNK est un artiste international aux multiples talents et à la personnalité extravagante basé en Espagne à Madrid. Il a commencé sa carrière en tant que danseur, makeup artist et hôte parmi les plus grands clubs, où il a notamment développé ses talents de performer. Marcopunk plonge ainsi dans le monde du cirque, du fétichisme et du grotesque.

SANTA SANGRE
🇬🇧 Mixing symbolisms from different horizons, Santa Sangre reinterprets ancient legends and folklore. The old tales reflect our archetypes, taking us to the very foundation of human perception.
With their in-depth narrative structure, detailed research and accurate cultural and anthropological histories, they transform their performances into an enchanting moment for the audience.
🇫🇷 Mélangeant des symbolismes d'horizons différents, Santa Sangre réinterprètent les légendes et le folklore antiques. Les vieux contes reflètent nos archétypes, nous amenant ainsi au fondement même de la perception humaine.
Grâce à leur structure narrative approfondie, leurs recherches détaillées et leurs histoires culturelles et anthropologiques précises, ils transforment leurs performances en un moment enchanteur pour le public.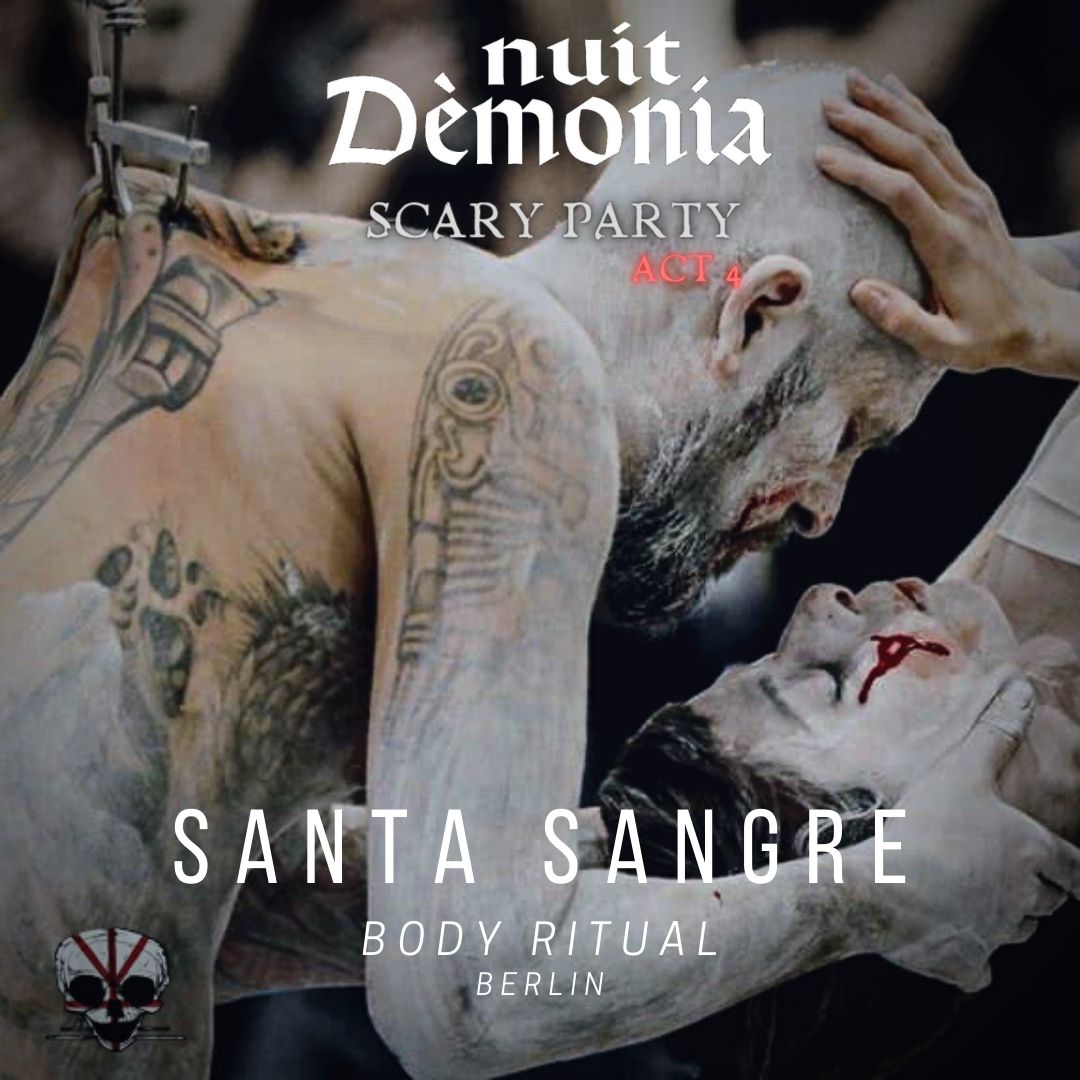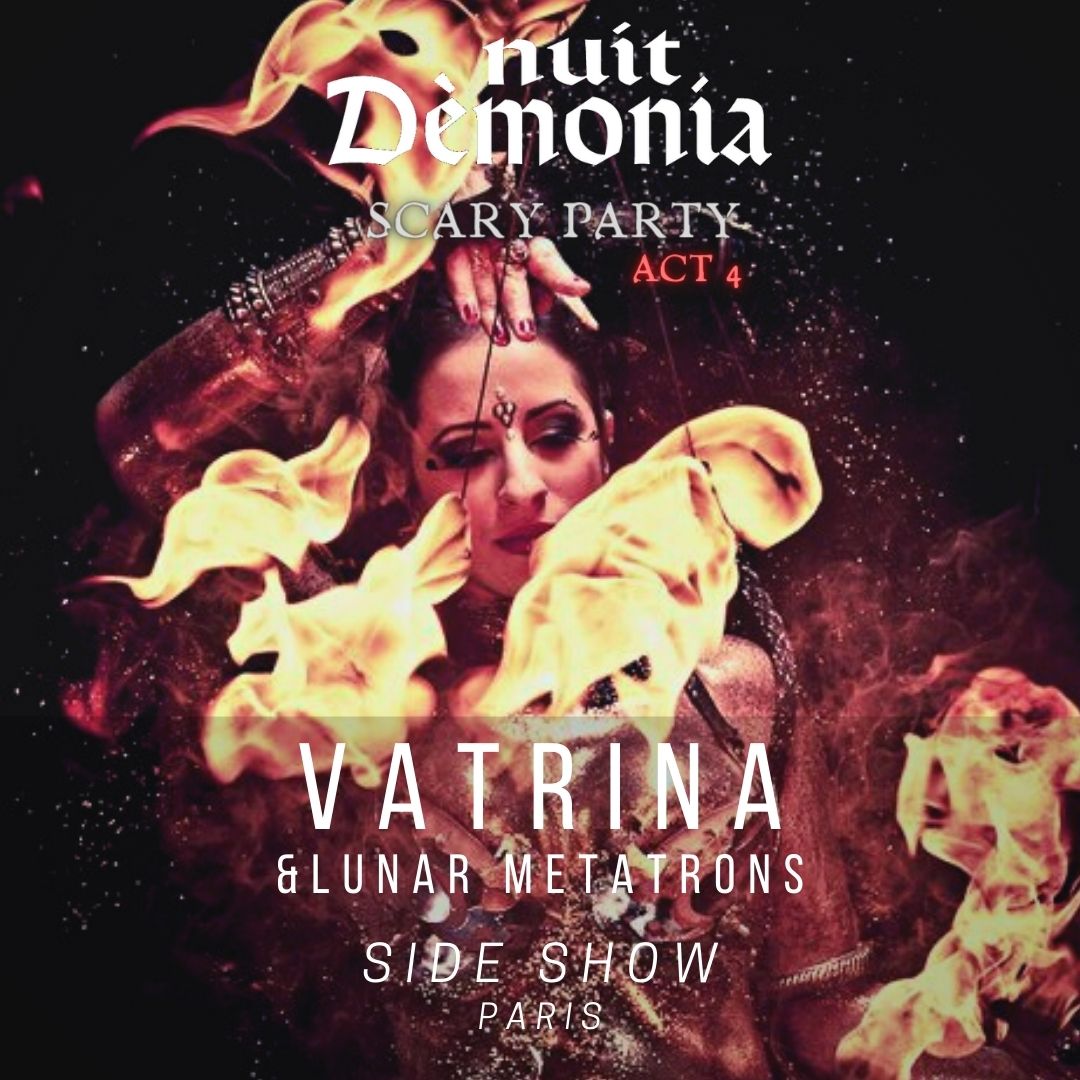 VATRINA
🇬🇧 New entity of the Parisian night, LUNAR METATRONS associates three artists respectively from Italy, Brazil and the Balkans. One of them is VATRINA VERITSA known as the female part of the former VATRA UCHRONIA.
Met in the corridors of the Cirque Électrique with a furious desire to turn spaces and minds upside down, LUNAR METATRONS mixes circus, pyrotechnics, fire, tribal fusion or cabaret.
🇫🇷 Nouvelle entité de la nuit parisienne, LUNAR METATRONS associe trois artistes venus respectivement d'Italie, du Brésil et des Balkans. Dont VATRINA VERITSA connue comme la part féminine d'anciennement VATRA UCHRONIA.
Rencontrés dans les coursives du Cirque Électrique avec une envie furieuse de retourner les espaces et les esprits, LUNAR METATRONS mélange cirque, pyrotechnie, feu, tribal fusion ou cabaret.
QUENTIN DEE
🇬🇧 Quentin Dée Alternative Androgynous Performer.
Multidisciplinary artist since childhood, recognized for a few years in the alternative cabaret scene in an exotic androgynous style. Founder of the Art Live collective and the Musee Obscène festival. A must for the libertine parties during 7 seasons in Cap D'Agde and in all Europe.
Now resident and artistic director at the Garçonnière Genève, an institution for 60 years.
🇫🇷 Quentin Dée Performer Androgyne Alternatif.
Artiste pluridisciplinaire depuis l'enfance, reconnu depuis quelques années dans le milieu du cabaret alternatif dans un style androgyne exotique. Fondateur du collectif Art Live et du festival Musee Obscène. Un incontournable des soirées libertines pendant 7 saisons au cap D'agde et dans toute l'Europe.
Dorénavant résident et responsable artistique à la Garçonnière Genève, une institution depuis 60 ans.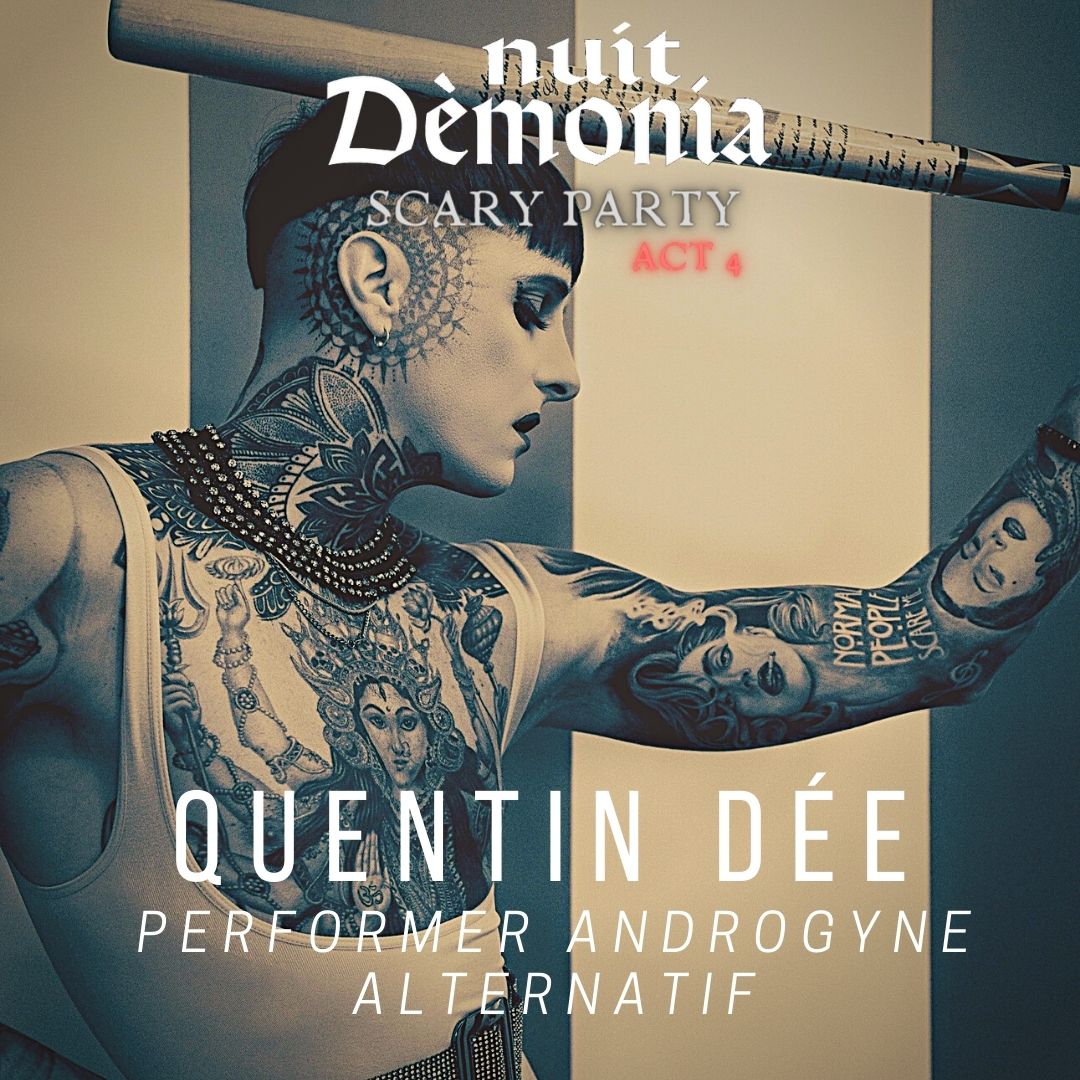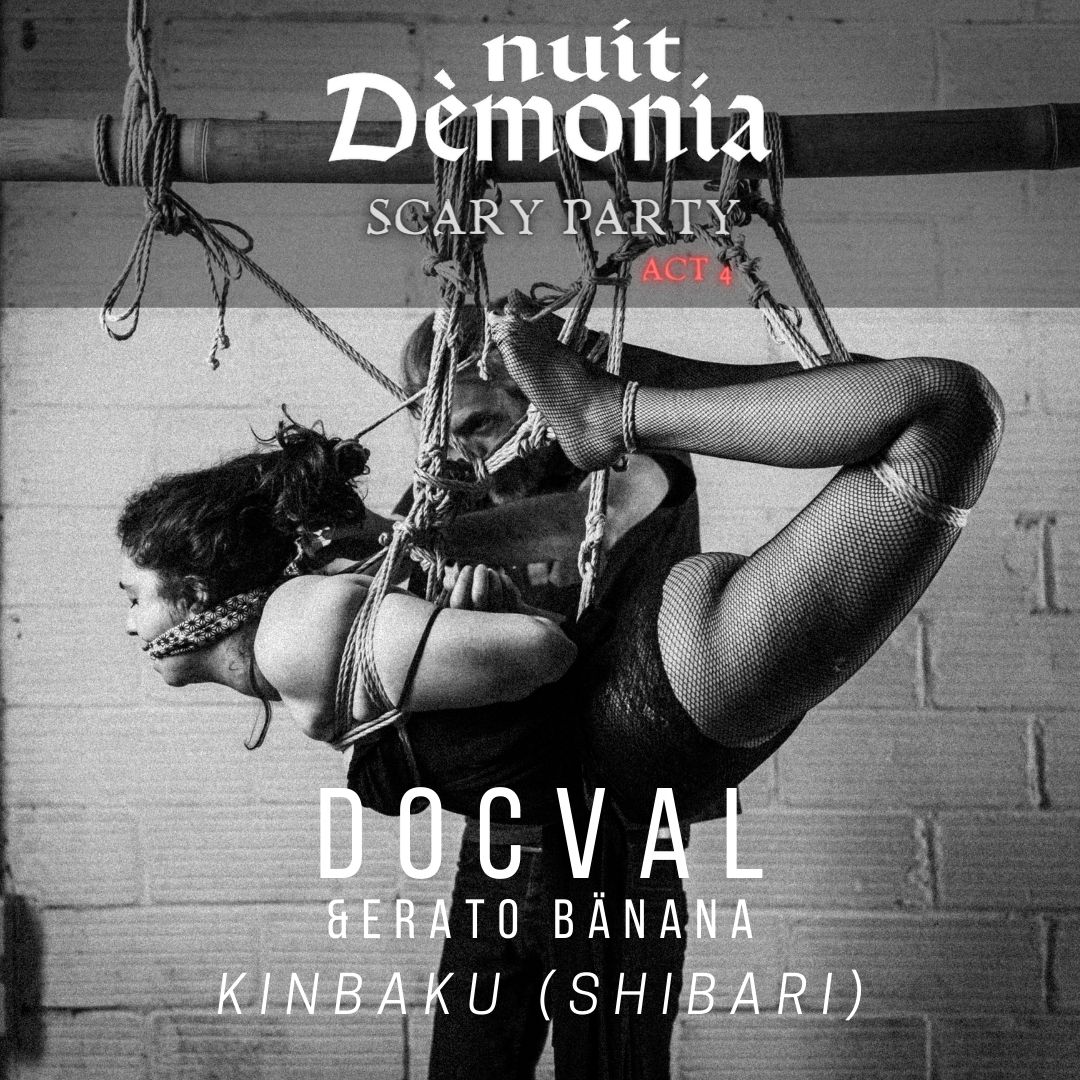 DOCVAL
🇬🇧 "The psychological and BDSM aspect of kinbaku being at the center of my practice, when I discovered Naka Akira's semenawa (rope of torment) I decided to dedicate myself to it.
Through diligent practice with my partners, I managed to find a path to my own style.
My vision of shibari is erotic and SM, and my practice is emotionally intense for my partners and me, and that's what we try to share with our audience.
I will be accompanied for this evening by Bänana who in the first instance will tie Fred, and then in the second instance will be on my ropes.
Since 2018, I am responsible for Atelier Simonet in Paris, recognized in 2019 as the official studio of Naka style by Naka Akira."
🇫🇷 "L'aspect psychologique et BDSM du kinbaku étant au centre de ma pratique, lorsque j'ai découvert le semenawa (corde de tourment) de Naka Akira j'ai décidé de m'y consacrer.
Grâce à une pratique assidue avec mes partenaires, j'ai réussi à trouver un chemin vers mon propre style.
Ma vision du shibari est érotique et SM, et ma pratique intense émotionnellement pour mes partenaires et moi, et c'est ce que nous essayons de partager avec nos spectateurs.
Je serai accompagné pour cette soirée de Bänana qui dans premier temps attachera Fred, puis dans un second temps sera dans mes cordes.
Depuis 2018, je suis responsable de l'Atelier Simonet à Paris, reconnu en 2019 comme studio officiel du Naka style par Naka Akira."